December 21, 2016
London Health Sciences Centre (LHSC) is proud of the role we play in our community throughout the year as staff, physicians, students and volunteers often extend the care and compassion we provide beyond the hospital's walls.
As part of the organization's 2016 Holiday Food Drive, LHSC staff generously donated nearly 2,000 lbs of food to the London Food Bank, as well as personal care products, cash and gift cards.
Porters at University Hospital challenged departments to compete against each other to donate the heaviest load of food. The Medical Device Reprocessing Department prevailed, donating 235 lbs of food.
For more on what LHSC is doing to strengthen and enhance our community and partnerships, please visit the Caring for Our Community website.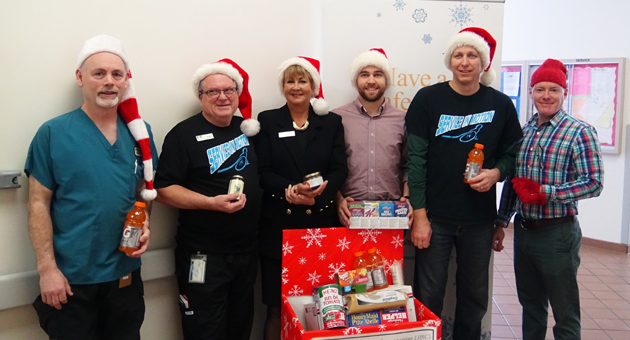 LHSC's porters, who make the annual Food Drive possible each year, are joined by Laurie Gould, Chief Clinical Officer at LHSC to display some of the donated items. From left: Rob MacBean (porter), Stephen Tompkins (porter), Laurie Gould, Chris Fry (Service Coordinator, Portering Victoria Hospital), Ben Alton (porter), and Eamonn Cullen (Service Coordinator, Portering, University Hospital).