February 3, 2017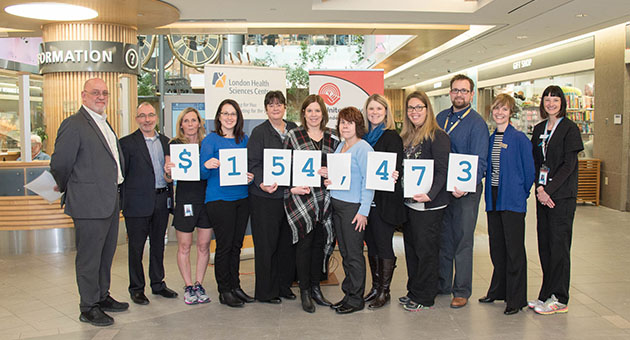 On Jan. 30, LHSC was proud to announce its 2016 employee United Way Campaign total of $154,473. Joining campaign committee members and supporters for the reveal are LHSC's President and CEO Murray Glendining, United Way Director of Development Jennepher Cahill, and United Way Associate Director Barbara Patterson.
LHSC staff and physicians are pleased to announce they have raised $154,473 through LHSC's annual employee United Way Campaign.
"This is the highest amount raised by LHSC in a single campaign to date," said Murray Glendining, LHSC's President and CEO. "This is a tremendous achievement, and I thank all those who donated for the support they have shown to our community."
This total was achieved through several fundraising initiatives including the new Daily Prize Calendar and the annual United Way Stair Climb. LHSC was well represented at this year's stair climb, with 81 members of "Team L.H.S.C." climbing each of the 472 stairs at One London Place, raising over $9000 in the process. This stair climb total is more than three times the amount raised at the same event last year. Congratulations to all who participated. 
LHSC's United Way Campaign depends on the efforts of a dedicated group of individuals who work tirelessly to support the campaign. A special thank you goes to the United Way Campaign Committee and this year's Sponsored Employee, Tawny Edwards, for their time, effort and commitment to this important cause.  
"London Health Sciences Centre has a proud tradition of providing Care Beyond Our Walls," said Glendining. "This year's campaign results are a testament to how strongly our hospital community supports that philosophy."
The United Way London and Middlesex provides significant support for the community, which includes more than 50 social service agencies across the region. LHSC is proud to partner with them each year to help those most in need. Thank you for your continued support.