January 9, 2018

As part of this year's Holiday Food Drive & Mitten Campaign, LHSC staff and physicians generously donated 4,887 lbs. of food to the London Food Bank, as well as cash donations, toiletries and personal care products. Additionally, more than 1,300 hats, gloves, mittens and scarfs were donated to the Unity Project for Relief of Homelessness and the LIFE*SPIN Free Store.
Thank you to everyone who contributed to this annual campaign, and a special thanks to the Portering Department whose efforts ensure this is a successful program each year. We would also like to recognize Pathology and Laboratory Medicine and VH Surgical and Perioperative Care, which donated a significant amount of food in interdepartmental challenges.
The London Food Bank is in need of help year-round through food, time and dollars. Visit their website for information on how you can help.
Thank you for helping those less fortunate in our community.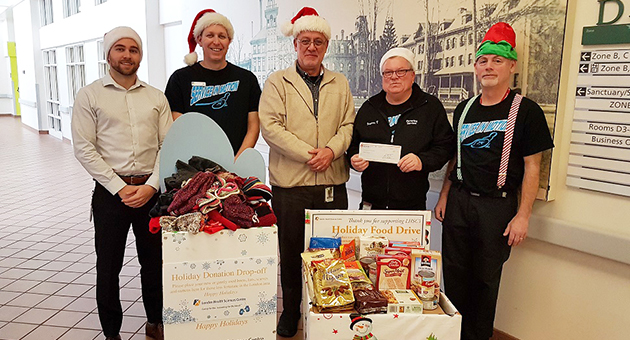 President & CEO Murray Glendining joins the Portering department to recognize the success of this year's campaign: (from left) Christopher Fry, Ben Alton, Stephen Tompkins and Rob MacBean.