September 18, 2013
Thorough hand hygiene, proper donning of personal protective equipment (PPE) and demonstrating the four-fold process for cleaning a surface with a cloth made for fierce competition during LHSC's Amazing Cleaning Challenge.
Fresh from competing across the country in The Amazing Race Canada, Jet Black and Dave Schram tackled a few of the daily challenges faced by Environmental Service Workers (ESW) and Support Service Workers (SSW) at London Health Sciences Centre (LHSC).  The ESW duo of Craig Vamos (Victoria Hospital) and Sarah Henshaw (University Hospital) represented LHSC.
"We are here to celebrate ESW and SSW Recognition Week and celebrate the important role and hard work of our ESW and SSW staff," said Jamie Clark, director, environmental and support services, LHSC. "Over 700 ESW and SSW staff working in 52 clinical areas contributes to patient and staff safety by providing a clean and safe environment."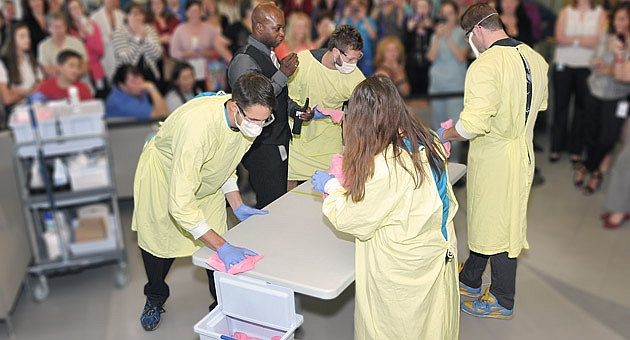 The Amazing Race Canada's Jet Black and Dave Schram competed against environmental service workers Craig Vamos (Victoria Hospital) and Sarah Henshaw (University Hospital) in LHSC's Amazing Cleaning Challenge to celebrate ESW and SSW Recognition Week.
Despite their lack of experience, Jet and Dave began the competition with their usual swagger quipping they "would mop the floor with their competitors."  A fortunate turn of events would increase their confidence as judge Rodney DeBlieck, ESW, LHSC, would give Craig and Sarah a U-turn and force them to begin each challenge with a 60 second delay.
The U-turn would be especially helpful during the first challenge, a hand cleaning challenge where the competitors reviewed the steps of proper hand hygiene,  doused their hands in "bioburden, " washed their hands, and then had their hands evaluated under ultraviolet light. Jet and Dave needed to rewash their hands twice, but the extra 60 seconds gave them the extra split-second they needed to finish the challenge successfully ahead of Craig and Sarah who only needed one opportunity to successfully wash their hands. 
The second challenge combined precision and speed as contestants needed to put on PPE, which is extremely important to ensure staff safety and reduce the further spread of infection during cleaning processes. Despite losing the first challenge, Craig and Sarah demonstrated their expertise during the second challenge. They put on their PPE in the proper order and with ease while Jet and Dave struggled with the finer details, such as independently tying the gowns around their necks and backs.
The third challenge focused on friction and the use of microfiber cloths as one of the most important tools for cleaning.  The four fold process is a technique used by ESW staff to maximize the use of the cloth space while ensuring cross contamination doesn't occur.  Jet and Dave jumped off to quick start and requested a test of their cleaning surface to evaluate the amount of bioburden remaining. Unfortunately, a lack of friction forced the pair to continue scrubbing their surface. In the meantime, the LHSC team again demonstrated their experience and was able to effectively clean their surface by applying more force. Both teams demonstrated the four-fold process to full effect.
Winning two of the three challenges, Craig and Sarah became LHSC's first Amazing Cleaning Challenge Champions. Jet and Dave remained gracious in defeat and held a question and answer session about their time on The Amazing Race Canada, and then posed for pictures with the crowd.
"The industry research about hospital cleanliness continues to help shape and evolve the way we clean the hospital and today we tried to demonstrate some of the techniques in a fun way," said Laura Sherwood, manager, environmental and support services, LHSC.
The first annual ESW and SSW Recognition Week was celebrated from September 9 to 15.
See more photos of the Amazing Cleaning Challenge on LHSC's Facebook page.