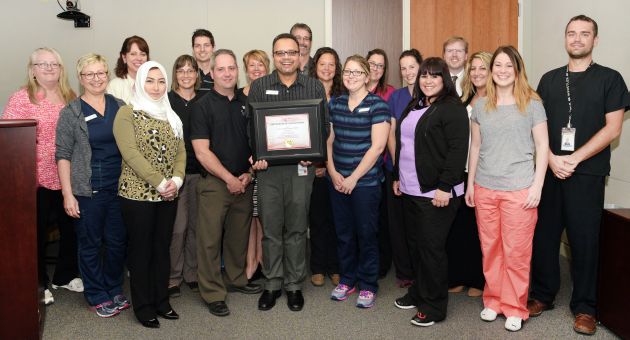 The Echocardiography team recently received accreditation by the Cardiac Care Network of Ontario, meaning they have met the highest guidelines and standards of care.
The echocardiography laboratories at London Health Sciences Centre are among the first to be accredited by the Cardiac Care Network (CCN) of Ontario, meaning that they have met the highest guidelines and standards of care.
"On behalf of the Cardiac Care Network, we extend our sincere congratulations to the LHSC echocardiography team. This accreditation award represents the team's focus on quality, and each individual's commitment to improving and enhancing patient care," says Jana Jeffrey, Lead, Quality Improvement Programs from CCN.
LHSC began the accreditation process in 2013, when it was still voluntary, and a site visit by CCN was held in 2014. The process included reviewing the qualifications of program personnel, the infrastructure of the laboratory, quality assurance processes and the report turnaround times. Accreditation was awarded in February, but the service waited until May to celebrate with a visit from CCN and the South West Local Health Integration Network (LHIN).
Echocardiography is a commonly used, non-invasive diagnostic test that provides important information about heart structures including chamber sizes, heart valves, blood flow and great vessels. Over the last three years, echocardiography volume for adult patients has been steadily increasing at both University Hospital and Victoria Hospital, with a growth rate of three to five per cent every year. In total, more than 15,000 adult echocardiograms were performed in the last fiscal year at LHSC.
To help meet this increasing volume, and to improve patient flow through the hospital system, the Cardiac Care Program conducted a successful pilot project which has resulted in the expansion of echo services into the weekend. 
"Initiatives such as this are important to helping us achieve our overall hospital goal of achieving 95% occupancy, and I thank the Cardiac Care program for their work toward this," says Murray Glendining, LHSC President and CEO. "Change of this magnitude doesn't happen overnight, and it doesn't come easily. The Cardiac Care team has worked diligently to implement this expanded access to care, and have set an example for colleagues across the organization through their commitment to change. Our patients are the direct beneficiary of this commitment." 
Echocardiography services are offered University Hospital (UH) and Victoria Hospital (VH). The UH laboratory predominantly serves an adult patient population and the VH laboratory caters to adult and pediatric patients. Accreditation is a credit to the hard work of the staff, physicians and leaders in the laboratories.