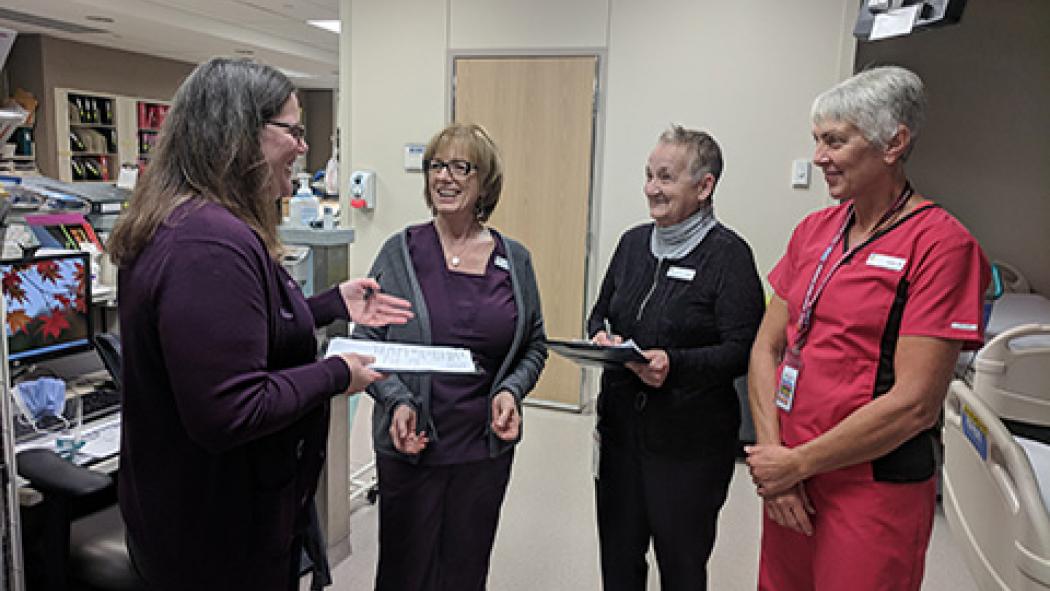 From left, Angela Andrews, Registered Nurse, RuthAnne Beavers, Registered Nurse, Betty Clinton, Patient Tracer, and Isobel McCall, Registered Nurse, review safety practices in the Regional Renal Program at University Hospital.
Betty Clinton was a natural choice to be one of LHSC's first 'patient and family tracers.' Her son David passed away after being on dialysis for 15 years and she was his advocate during that time, witnessing the best examples of care, and areas for improvement in that time.
"As a family care giver, I would join David for his dialysis three times a week, I got to know other patients and their families. If one person missed an appointment, we all tended to worry," she explains. Clinton joined the Renal Patient and Family Advisory Council one year after David's passing, "he is the reason I got involved; I feel that connection to him when I volunteer."
She was enthused about becoming a patient tracer when the opportunity was presented to her. "I want to help give patients a voice about their care," she says. "Patients may be more comfortable speaking about their care and safety with a family volunteer."
In early 2018, LHSC implemented an internal tracer program to monitor, audit, and provide feedback on the services provided across the organization. A tracer "traces" the experiences of a patient through their entire hospital stay, for example from pre-admit to surgery to post operation and discharge, and evaluates the direct and indirect interactions with a patient throughout. A tracer will evaluate the direct care received and the supporting policies and procedures in place.
Building on the early success of the weekly tracers, an opportunity was identified to include patient advisors in this activity moving forward. "Patients and families offer important perspective when evaluating and improving the care delivered at LHSC. Patient and family tracers represent a leading practice and have been adopted successfully by other leading health care centres and enhance our commitment to patient and family engagement in quality and patient safety initiatives at LHSC," says Jennifer Newman, Patient Safety Specialist, LHSC.
Clinton has conducted tracers in renal areas at Victoria Hospital, University Hospital and in the Kidney Care Centre at Westmount Mall. To date, her experience has been that patients are receptive to speaking about safety and pleased to give their time. She keeps her conversations confidential and shares the feedback she receives with members of the renal care team, but excludes patient names. "Anytime a patient tells me what is going wrong, we have made a difference. If I see anything requires action, it has been followed-up upon," she adds.
Tracer activity also involves speaking to staff. "The questions I ask staff are precise and specific to safety topics such as hand hygiene. They know I'm coming and are ready with the answers," Clinton jokes. "It is an asset to have patients and families members helping keep hospital safety up to par."
Clinton encourages others to get involved and make a difference, in whatever volunteer capacity suits them best.