September 19, 2012
On September 18, over 25 LHSC staff members gathered for the first Sunset Yoga for Charity session. In the tranquil atrium of the North Tower at Victoria Hospital, the group participated in a gentle Yoga-Flow class.
"Thank you to those who participated in our first-ever Charity Sunset Yoga event! We were each able to work on breathing techniques, stretching and reconnecting with our bodies while in the beautiful space of the atrium at Victoria Hospital," says Susan Rosato, LHSC's Fitness Program Lead.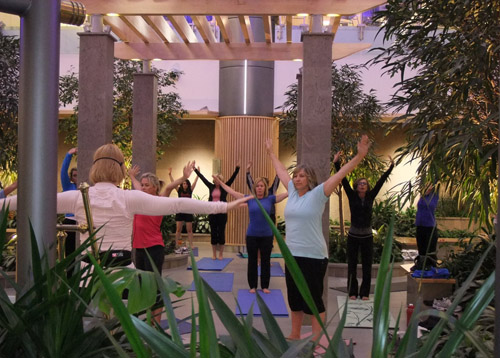 Proceeds from the event went to support the London Health Sciences Foundation. Participants also contributed food donations to the London Food Bank.
The event was hosted by London Health Sciences Centre's Fitness Program. Qualified fitness instructors lead weekday activities to support LHSC staff and physicians in maintaining their health and wellness.