December 12, 2012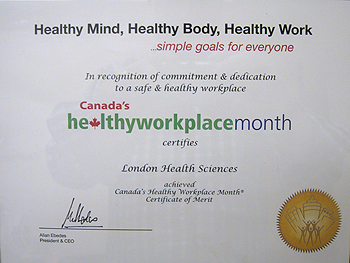 London Health Sciences Centre (LHSC) has received a second Excellence Canada Certificate of Merit for participation in Canada's Healthy Workplace Month® (CHWM). Over 470 organizations in Canada registered to participate in CHWM for October 2012, and 30 organizations received the Certificate of Merit.
LHSC was recognized for its award winning Fitness Program led by Susan Rosato. The Fitness Program is a very unique workplace wellness offering that  includes a couch-to-5K running program, walking program, frontline workers "we come to you" campaign; providing stretch breaks, team health challenges and over 80 fitness classes across three sites per week. My Fitness….My Weigh, a weekly weigh in program has been recently introduced. In addition to the free offerings, onsite massage therapy and personal training are also available to staff at a reduced rate.
The Fitness Program began as a pilot project in in May 2011 and moved to a permanent program in May 2012. Almost 57,000 visits by staff, physicians and volunteers have taken advantage of the Fitness Program and staff report an enhanced sense of well-being with improved fitness and energy levels as well as a result of having these options available to them at the workplace, participants report feeling an increased sense of connectedness to the organization.
Founded in 1992 by Industry Canada, Excellence Canada is an independent, not-for-profit, organization that is committed to advancing organizational excellence across Canada. The successful Showcase submissions will be displayed on the Excellence Canada website until October 31, 2013 and will receive an Excellence Canada Certificate of Merit to proudly display in their workplace.