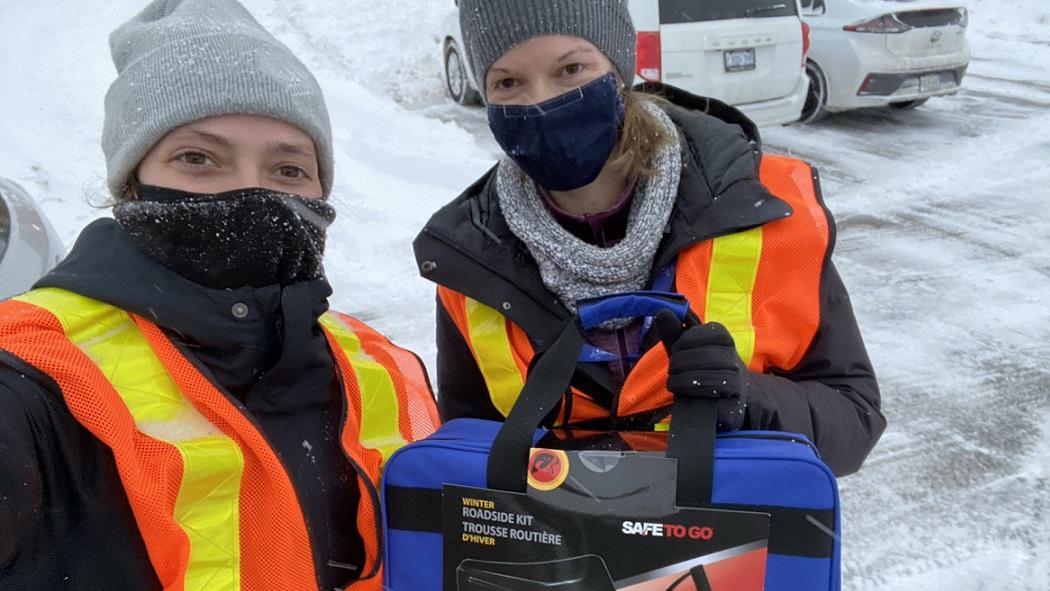 Injury Prevention Specialists Jennifer Britton and Kaitlyn Jacobs clear snow and ice off of vehicles to ensure staff and physicians were prepared to get home safe after their night shift.
February 16, 2021
The Injury Prevention Specialists of London Health Sciences Centre's (LHSC) Trauma Program were out early this morning helping staff and physicians clear the snow off their vehicles to ensure they were prepared to get home safe after their night shift.
"Although we couldn't have our community partners here this year to support this annual event, we were determined to do what we could to help spread some kindness to staff, and be a role model for good winter driving practices," says Jennifer Britton, Injury Prevention Specialist, LHSC.
Some quick tips and reminders on how to stay safe on the road this winter:
See Snow? Drive Slow – adjust your speed according to the weather conditions and leave enough space between vehicles.
Maximize your visibility – clear all snow and ice completely off windows, side view mirrors, headlights, taillights and license plates. Keep your headlights on all the time; don't rely on daytime running lights.
Be prepared – make sure your vehicle is winter ready – keep fuel and windshield washer fluid full and have emergency supplies with you (including warm clothes, jumper cables, blanket, shovel, gloves, etc.).
Buckle up and phone down – always!