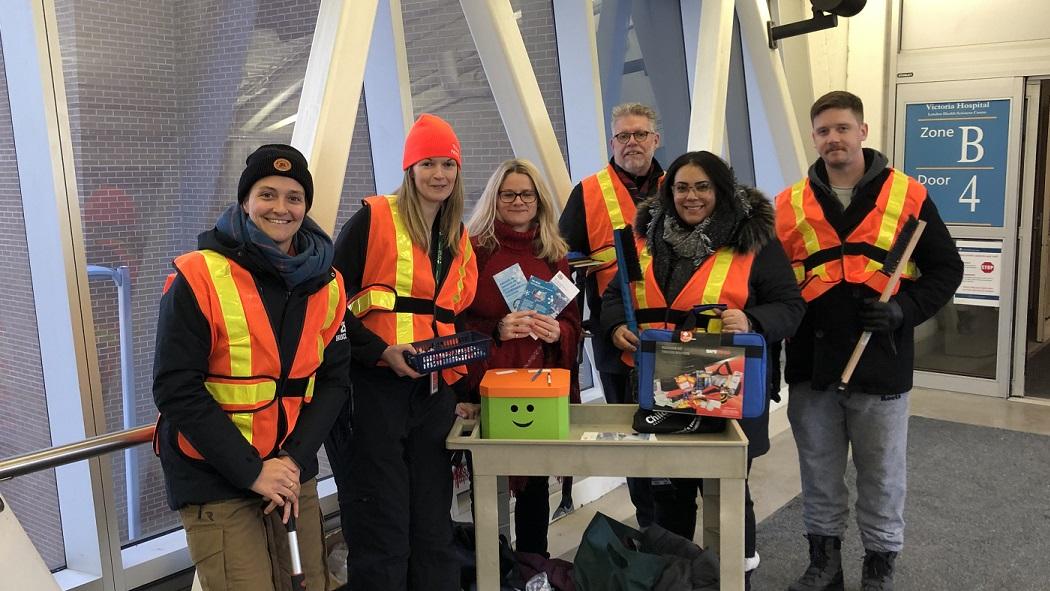 From left, Kaitlyn Jacobs, LHSC, Jennifer Britton, LHSC, Tara MacDaniel, Middlesex-London Health Unit, Sean Wraight, Ministry of Transportation Ontario, Tania Haidar, LHSC, and Chris Stolworthy, LHSC encourage safe winter driving.

Despite the relatively mild winter this year, the Trauma Program's Injury Prevention Team continues to encourage safe winter driving habits. The team chose Valentine's Day to hand out chocolates, ice scrapers and emergency blankets at Victoria Hospital, while sharing tips, tools and reminders about smart winter driving practices. Joined by the Ministry of Transportation Ontario and Middlesex-London Health Unit, they also held a draw for one car emergency kit.

"Although this year saw limited winter driving conditions, we always need to be prepared and stay vigilant for a sudden change in conditions," says Jennifer Britton, Injury Prevention Specialist, London Health Sciences Centre.

Some tips to stay safe while on the road this winter include:

Plan ahead, use your judgment – check the weather forecast and plan extra time to get to your destination or decide whether you should delay your trip.

Be prepared – make sure your vehicle is winter ready – keep fuel and windshield washer fluid topped up and have emergency supplies with you (including warm clothes, jumper cables, blanket, shovel, etc.).

Maximize your visibility – clear all snow and ice completely off windows, side view mirrors, headlights, taillights and license plates. Keep your headlights on all the time; don't rely on daytime running lights.

Slow down, stay alert, and in control – slow your speed based on the conditions and allow extra space between you and other vehicles, signal well in advance of turning to give other motorists time to react to your actions. Don't use cruise control on wet, snowy or icy pavement – it reduces your reaction time and vehicle control.

Buckle up and phone down – always!

The initiative to provide staff and patients with these winter weather tools is part of the London Middlesex Road Safety Committee's (LMRSC) winter driving safety campaign.

More winter driving tips are available from the Ministry of Transportation Ontario.