August 20, 2014
London Health Sciences Centre's (LHSC) motor neuron disease (MND) team joined people from all across the world by being doused with buckets of ice water in support of ALS research. "It's incredible that this simple premise has gone viral and raised awareness and money in support of ALS research," says Dr. Christen Shoesmith, medical director, MND clinic, LHSC.
The challenge involves people getting doused with buckets of ice water on video, posting that video to social media, and then nominating others to do the same, all in an effort to raise ALS awareness. Those who refuse to take the challenge are asked to make a donation to the ALS charity of their choice.
The challenge was created by the American ALS Association (ALSA), but people can also donate directly to LHSC's MND clinic though London Health Sciences Foundation to support research at University Hospital or to ALS Canada.
"Patients in our clinic are talking about the challenge and it is really bringing them hope," continues Dr. Shoesmith. "Medical research is limited by funding and increasing that funding can help us find a cure. There is a new general awareness about ALS that I have never seen before."
LHSC President and CEO Murray Glendining, LHSF CEO Dan Ross and Dr. Paul Cooper, Chair/Chief, Clinical Neurological Sciences, LHSC were nominated to take the challenge by the team.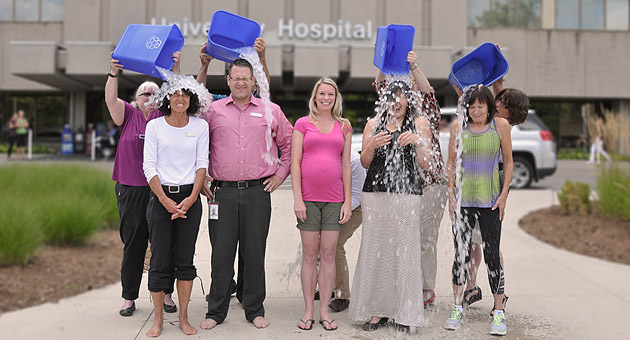 LHSC's motor neuron disease team completes the ALS Ice Bucket Challenge.
About LHSC's MND Team
LHSC's MND team is one of the largest adult multi-disciplinary health care teams in the country and the clinic has become an international referral centre, seeing Canadian patients from Alberta to Newfoundland and others from as far as Europe and Asia. The team provides consultation, diagnosis, support and care advice to patients with a motor neuron disease, including amyotrophic lateral sclerosis (commonly known as ALS), primary lateral sclerosis (or PLS), spinal muscular atrophy (SMA) as well as other motor neuropathies.
The clinic sees about 200 patients annually, each of whom will typically spend the entire day in clinic every three- to six-months. During their visit they have access to the entire multi-disciplinary MND team, including physicians, a nurse, speech pathologists, social worker, dietitian, physiotherapist, occupational therapist and respiratory therapist. They may also run into the research coordinator if they are taking part in a research trial, the administrative assistant who helps coordinate all of their appointments, and a dedicated volunteer who provides a friendly and familiar face while helping to navigate their various appointments.
"It's like one-stop shopping for our patients," says Dr. Shoesmith, who adds that patients are seen across the continuum of care, from diagnosis through to the end stages of their disease.
The MND clinic was started in the 1970s by Dr. Arthur Hudson and was the first adult multi-disciplinary MND health-care team in Canada. Dr. Michael Strong took over as the clinic's medical director from 1990 until 2010, when he handed over the reins to Dr. Shoesmith after taking on his current role of Dean, Schulich School of Medicine and Dentistry.
Dr. Strong continues to run an ALS research laboratory through Robarts Research Institute at Western University and Dr. Shoesmith conducts clinical trials and epidemiological ALS research at LHSC.
"Motor neuron diseases are very challenging and often fatal. When we care for these individuals, I am always surprised by the inner strength of the patients and their families," says Dr. Shoesmith. "The science behind motor neuron diseases is rapidly evolving and there is great hope that treatment breakthroughs are on the horizon."