September 5, 2012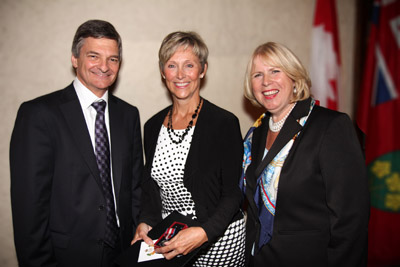 LHSC's new board chair, Ruthe Anne Conyngham received the Queen's Diamond Jubilee medal from Minister Chris Bentley, MPP London West and Minister Deb Matthews, MPP, London North Centre in August.
Congratulations to LHSC's new Board Chair, Ruthe Anne Conyngham, on her recent presentation of a Queen Elizabeth II Diamond Jubilee Medal for Community Commitment in recognition of her achievements and contributions to the community.
Conyngham, who recently assumed the Board Chair role, says she never intended or expected to be in the chair's seat when she joined the LHSC Board of Directors in 2008 after more than a decade of health-care governance.
"I'm very happy and willing to take on the role of Board Chair, but it was the furthest thing from my mind when I joined the LHSC Board of Directors that I would be leading another hospital board in London," says Conyngham.
Conyngham has been a dedicated governance volunteer with a number of health care boards since she joined the St. Joseph's Health Care London Board in 1999 (she served as its chair from 2003-2005). She also played an extended leadership role with the Joint Committee overseeing London's complex hospital restructuring.  When it came to considering a place on the LHSC Board of Directors, Conyngham believed her past governance experience could guide the future direction of the hospital.
"I was interested in continuing to be involved in a hospital governance role as I knew the future held the promise of profound change for the health system in Ontario and beyond" says Conyngham. "London has done leading work in building collaborative relationships, and context, history and corporate memory are so important.  Boards build on the work of previous boards and it was an opportunity to share the thinking and rationale to explain why we did things the way we did. More importantly, we still have so much more we can do!"
It's the passion for contributing to health-care delivery that has led Conyngham from her 30 years of leadership in the aviation industry to her leadership in health-care governance, advocacy and policy development at the local, provincial and national levels.
"My family has been so patient as a board commitment is a lot of work and requires significant time. I've probably picked up speed in my retirement!" says Conyngham, a long-time London resident.
She recently completed terms as chair of the Canadian Healthcare Association and the Ontario Hospital Association (OHA). Locally, in addition to serving on the boards of Children's Health Foundation and the London and Middlesex United Way, she has completed terms as chair of Lawson Research Institute and Thames Valley Hospital Planning Partnership. Currently, in addition to her role with LHSC, Conyngham is a member of the OHA's Governance Leadership Council, the Cancer Quality Council of Ontario and a faculty member with the Canadian Patient Safety Institute. 
With such a breadth of health care governance experience, Conyngham has seen a lot of change in the discipline over the last decade.
"Almost everything has changed, and often for the better" she says. "Important concepts like quality, accountability, and fiscal responsibility were always present, but now there's a light shining on them. I think people's expectations have increased; I think their awareness and knowledge has increased. And I think there is a financial imperative that we produce value for investment."
With a diverse mix of young and old, male and female, professional and academic, Conyngham believes that the current Board of Directors is up to the task.
"We have a very committed board. There's a gender balance, and there's age diversity. We have busy, engaged people in our community. Everybody is there for the same reason: because they think they can make a difference and they want to be involved."
The board is responsible for ensuring strategies are in place to help the organization head in the right direction, and it holds the organization accountable for meeting their strategic goals. "We're always looking ahead and trying to determine where the organization needs to be to optimize how we'll meet the needs of our patients," says Conyngham.
Conygham says she is looking forward to working with LHSC's President and CEO, Bonnie Adamson, over the next two years as the organization focuses on its calls to action of improving infection safety and patient access, while supporting the extraordinary people who work to provide safe, high-quality care every day. 
"This is a huge, vibrant organization that is such an integral part of the health-care delivery system in our area, and it needs to be functioning on all cylinders, all the time. The people who work to provide care for our patients every day are so skilled and dedicated, and I want to thank them for their commitment to providing exceptional patient care."