Aboriginal spiritual ceremony welcomes patients and staff into new space
October 22, 2012
Just before sunrise on Saturday October 20 London Health Sciences Centre staff and patients were joined by hospital partners and Aboriginal community members for a spiritual opening of LHSC's Kidney Care Centre (KCC) in Westmount Shopping Centre; specifically, the Aboriginal resource room located within the KCC. The spiritual ceremony was held before LHSC's new Kidney Care Centre officially opens for patient care on Monday, November 5, 2012.
"Today we are here for the official blessing of the Kidney Care Centre and its Aboriginal resource Room," said Ray John Jr., aboriginal community member, who, with the help of his son, Walker Antone-John, provided the blessing. "During the blessing we are bringing positive energy into the space that will welcome all members of the Aboriginal community, all patients who will receive care here and the staff who will provide care."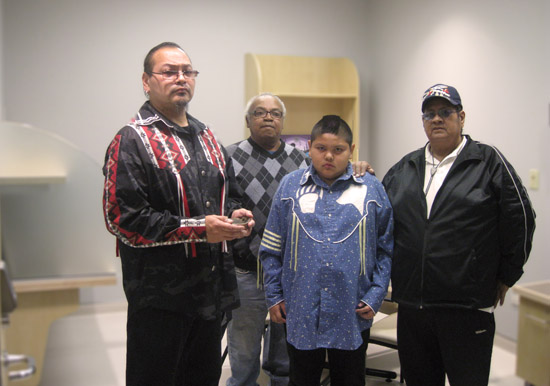 From left, Ray John Jr. smudges the Aboriginal resource room and provides an Oneida blessing with Jim Bobb, community member, who blessed the room in Ojibwe, Antone-Walker, who provided the sunrise blessing, and patient Blake Kechego.
The Aboriginal resource room is a resource and education room available for use by everyone at the Kidney Care Centre. The room contains Aboriginal medicines including sweet grass, sage, cedar and tobacco, resource information about Aboriginal cultures as well as Aboriginal arts and crafts. "The room can also be used as a quiet space for family members while their loved ones receive care," adds Carlene Mennen, registered nurse and certified diabetes educator, Southwest Ontario Aboriginal Health Access Centre (SOAHAC). SOAHAC is providing resource materials for the room.
The morning began just inside the front doors of Westmount Shopping Centre where Walker Antone-John provided the sunrise blessing. The blessing was followed by a smudging ceremony conducted by John Jr. inside the Kidney Care Centre. The smudging began in the reception area of the KCC, moved to the Aboriginal resource room and proceeded throughout the entire 32,000 square-foot facility.
Within the Aboriginal resource room, a special blessing was provided by John Jr. and community member Jim Bobb. John Jr. provided an Oneida blessing and Bobb provided an Ojibwe blessing. Both represented inclusiveness to all Aboriginal cultures.
Heather Jones, registered nurse, LHSC, feels the Aboriginal resource room connects her patient care work with her Aboriginal heritage. "This is another way to open lines of communication between patients and their caregivers. It will certainly make patients feel more welcome and comfortable."
 View more photos of the spiritual ceremony on LHSC's Facebook page.