February 15, 2018

At a ceremony on January 25, staff from the Portering department at London Health Sciences Centre (LHSC) were recognized by United Way Elgin Middlesex and Labour United, with a Partnering with a Purpose award. Celebrating 40 years of partnership, the awards recognize employees at various organizations who contribute to their community through charitable endeavours.
"This award honours a dedicated group that works together, with passion and desire to create a stronger community where everyone matters," says Kelly Ziegner, CEO, United Way, Elgin Middlesex.  
Porters for Smiles is known across LHSC for their commitment to giving back to the hospital through several initiatives, including running various fundraisers for Paediatric Oncology, and their efforts to ensure the success of LHSC's annual Holiday Food Drive and Mitten Campaign and Spring Food Drives. Additionally, the porters hold fundraisers for community organizations outside of the hospital including United Way, the London Humane Society and the Ark Aid Mission.
Ben Alton, a porter at University Hospital, attended the ceremony and accepted the award with a group of his colleagues. 
"Many of us – myself included – have personal reasons as to why charitable work is important," says Ben. "Anyone could have a rough patch in their life that would require them to look to others for help. As a group, we consider ourselves blessed and fortunate in our lives and wish to share some of that with people who may be struggling."
Ben says the award motivates the group to continue contributing to the hospital and community.
"While we don't do what we do for awards, it is an honour to receive one as it lets us know we are achieving our goals and pushes us to continue to give back," he says.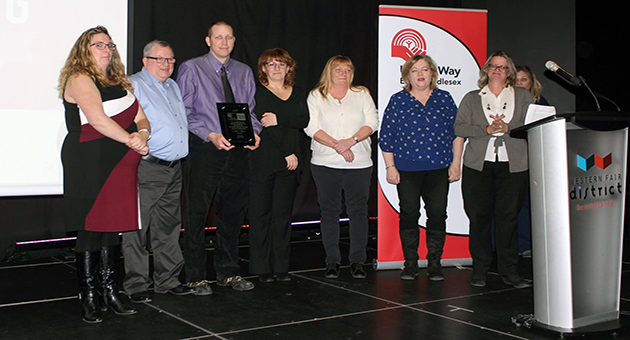 LHSC's porters are presented with the Partnering with a Purpose award on Jan. 25. From left, Dani Bartlett, United Way Labour Coordinator, stands with LHSC porters Stephen Tompkins, Ben Alton, Liza Larsen, Marina Loeffelholz, Donna Morrison, along with Nancy Richter, Area Council President, Public Service Alliance Canada.