March 12, 2015
The Change Foundation has awarded London Health Sciences Centre (LHSC) a 20 Faces of Change Award for the extraordinary work and patient engagement that lead to the creation of the Regional Renal Program website.
The 20 Faces of Change Awards honour those who have inspired positive changes in Ontario's health care system and are chosen by a selection committee that evaluated nominations from a diverse range of teams, individuals and organizations from all across Ontario. Nominations were evaluated for their impact at the community, organizational or provincial level based on each nominee's innovation, excellence, quality improvement, and influence.
Don Bester, Manager, Regional Renal Program, LHSC, Susan Scott, Social Worker, LHSC, and Greg Davies, Web Producer, LHSC attended the award gala at The Change Foundation's Capstone Summit and 20th Anniversary in Toronto. They were joined at the gala by renal patients and their families.
Bester, Scott, Sandra Bartlett, Nurse Case Manager, and Davies were a part of a larger team nominated by the Ontario Renal Network "for their commitment, perseverance and determination to partner with patients to create a website that provides the information that patients want, in the format that patients want, to support them throughout their journey with CKD. The tool is a resource for patients and families within LHSC and across Ontario, looking to connect with others who have shared experiences living with chronic kidney disease. While a host of websites provide patients or families with information related to their disease and care, the LHSC website is the first of its kind in Ontario that was able to make these patient stories accessible in video format on the web. The LHSC website allows patients and family members to learn about the experiences of others in an easy and unintimidating manner."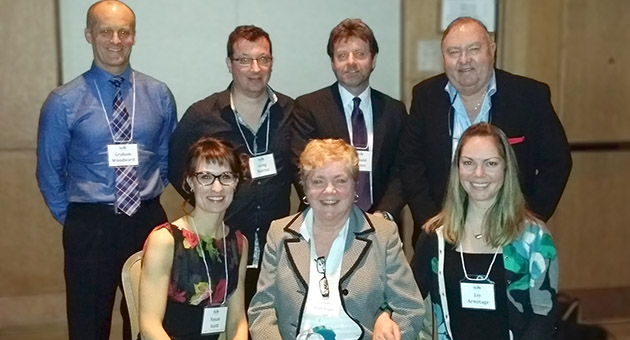 From back left: Graham Woodward, Ontario Renal Network, Greg Davies, LHSC, Don Bester, LHSC, Brian Armitage, patient, Susan Scott, LHSC, and Brian's wife and daughter Cindy and Jay Armitage celebrate their Faces of Change Award at The Change Foundation's Capstone Summit.
"We began the process of developing this website by asking input from our patients," says Don Bester, Manager, Regional Renal Program, LHSC. "The 'aha!' moment came when our patients told us they wanted to learn from the experience of other patients." That input would form the basis for LHSC's most patient focused website.
The website content focuses on a broad range of topics from the basics of kidney disease, new diagnosis, treatment options, adjusting to dialysis and a section for families with support information. Information about medication, exercise, and dietary information, including recipes can also be accessed.
The hallmark of the website are the patient testimonial videos. The videos, eight unique patient stories in total, combined with care information provide a holistic approach to learning about kidney disease. "Anyone can view the patient stories in their entirety, or focus on the parts of the story that are most relevant to them," says Susan Scott, Social Worker, LHSC. "We will continue to update the content and incorporate ongoing feedback. This platform allows us to communicate the information most important to patients."