LHSC's Trauma program at Children's Hospital has won a regional and national award for its awareness campaign to prevent Shaken Baby Syndrome (SBS), The Period of PURPLE Crying®.
On May 31, the South West LHIN awarded the program one of three inaugural Quality Awards at its Quality Symposium in Stratford Ontario. The Quality Award recognizes and celebrates the hard work of front line health service providers who constantly and consistently want to improve the level of care they provide to their patients and clients.
"This award recognizes an injury prevention program for its positive effect on the quality of a patient's hospital experience," says Tanya Charyk Stewart, Injury Epidemiologist & Data Specialist, Trauma Program, LHSC. "Not only does our program help to prevent SBS, it provides education and strategies to help new parents cope with a crying baby and makes them feel better that this is a normal stage of crying and they are not 'bad parents.'"
The Period of PURPLE Crying® program is lead by LHSC but could not have happened without the support of the SouthWest Shaken Baby Syndrome Prevention Working Group, Maternal Newborn Child and Youth Network, Children's Health Foundation, Middlesex-London Health Unit, hospital volunteers and staff and the community. All South Western Ontario health units and birthing hospitals have implemented the program.   The success of this program is due in large part to the efforts of hundreds of nurses throughout the region that give this education to new families every day.
At London Health Sciences Centre (LHSC), research found43% of severe infant injuries were intentional, often SBS. "The Period of PURPLE Crying® is the phrase used to describe the point in a baby's life when they cry more than any other time," says Denise Polgar, injury prevention specialist, LHSC. "We want everyone to know that crying is normal and that it is never okay to shake or harm an infant."
In addition to the South West LHIN Quality Award, Charyk Stewart was awarded a national research award by the Trauma Association of Canada in May. The award recognized the research used in a public media campaign consisting of both a local and a regional media including billboards, radio public service announcements, theatre ads and radio interviews.
The campaign used demographic statistics to target SBS awareness in specific neighbourhoods based on density of population, amount of new families, income and education levels in London Ontario. Dr. Jason Gilliland, Director, Human Environments Analysis Laboratory, department of geography, Western University, undertook  the demographic and mapping data for this study.
"The media campaign allowed us to extend primary prevention beyond new parents to help create a communal cultural shift in the way infant crying, the primary trigger for SBS, is viewed," says Charyk Stewart. "Both awards validate that The Period of PURPLE Crying® program works to prevent SBS and infant injuries."
The award winning work by Charyk Stewart will soon reach international levels as she will be presenting her research at the Twelfth International Shaken Baby Syndrome Conference /Abusive Head Trauma at the end of September.
Through a generous grant from the Children's Health Foundation in 2009, Children's Hospital was the first hospital in Ontario to adopt the Shaken Baby Syndrome education program in their mother/newborn unit and the neonatal intensive care unit. The program includes nursing staff providing individual education to each woman/family, including a take-home 11-page colour booklet and DVD, focusing on positive messages on coping with infant crying.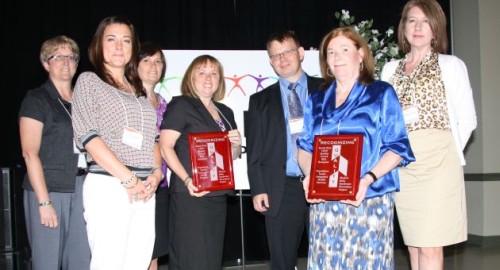 From left to right, Dawna VanBoxmeer, manager, critical care and trauma, LHSC, Cynthia Dettloff, injury project associate, Trauma Program, LHSC, Kelly BarzsaJenkins, perinatal nurse consultant, Regional Perinatal Outreach Program of Southwestern Ontario, LHSC, Felix Harmos, regional leader, MNCYN, LHSC, Bonnie Wooten, manager, FHS, early years team, MLHU, Tanya Charyk Stewart, injury epidemiologist & data specialist, Trauma Program, LHSC accept South West LHIN Quality Awards.