February 3, 2016

LHSC staff and physicians are pleased to announce they have raised $152,762 through LHSC's annual employee United Way Campaign.
"This figure represents LHSC's highest United Way total in its campaign history," says LHSC President and CEO Murray Glendining. "With a campaign theme of 'Care Beyond Our Walls,' this total demonstrates how LHSC is continuing its work to enhance and improve care for patients at every point of their care journey, both inside and outside the hospital's walls."
In order to ensure LHSC has a strong base of core support for United Way London & Middlesex, it encourages employees to sign on for regular contributions through payroll deduction. This year, the campaign saw an increase in these "perpetual pledgers" by 20 per cent – representing more than $14,500 of LHSC's total. This increase will help LHSC to continue building on its legacy of care and ongoing support for the community.
The success of LHSC's United Way Campaign depends on the efforts and dedication of a variety of individuals, including the campaign steering committee, Sponsored Employee and full-time Champions. These tireless individuals helped raised more than $24,000 for this year's campaign by promoting the corporate BINGO game, participating in the United Way Stair Climb event, and through a variety of individual fundraisers.
"Thank you to all those whose support, enthusiasm, and commitment to the campaign contribute to the growing awareness of the important work and impact the United Way's funded agencies carry out in our community," says Glendining.
As a social change organization, the United Way London & Middlesex supports more than 50 agencies within the region, each of which is creating positive outcomes for those in need. Ultimately this helps to create a healthier community, which aligns with LHSC's role as a health-care provider.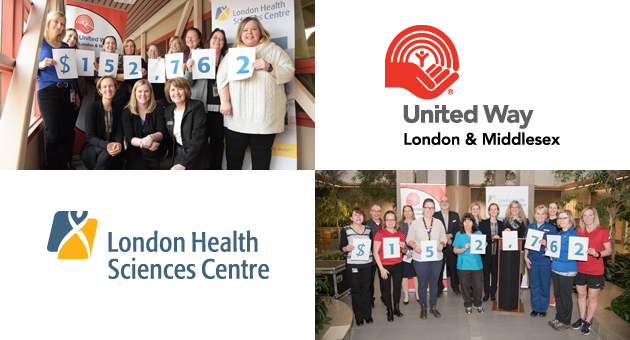 LHSC was proud to announce its 2015 employee United Way Campaign total of $152,762. Joining campaign committee members and supporters for the reveal are LHSC's President and CEO Murray Glendining, and United Way London & Middlesex Board Chair Elizabeth MacCabe.