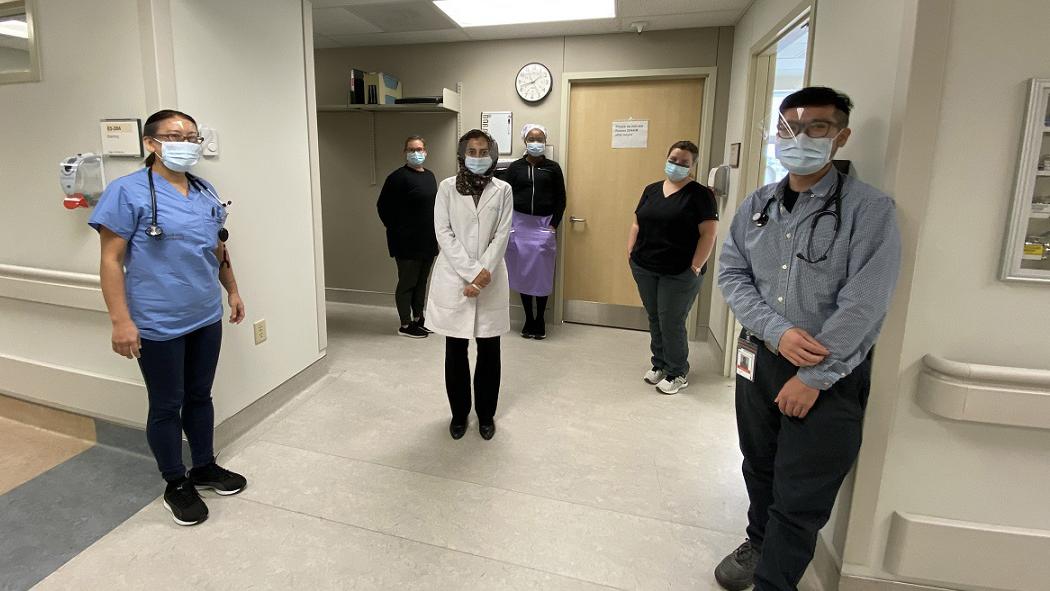 Front left to right - Dr. Dongmei Sun, Dr. Saira Zafar, Victor Tat, Third Year Medical Student. Back left to right - Samantha Lillie, Clerk Receptionist, Nicole Fender, RPN, Krysta Wayvon, RPN.
October 29, 2020
The Urgent Medicine Clinic (UMC) at Victoria Hospital is celebrating its 25th anniversary. The UMC was established in 1995 by Drs. David Boyd and Mary Moore to provide rapid access to care for patients presenting to the Emergency Department (ED) with acute medicine-related issues, to avoid unnecessary admissions to the hospital. The clinic also provides a good educational experience for medical students and residents to help them learn how to manage acute medical problems in the outpatient setting.  
Over the last twenty-five years, the UMC has evolved into a well-functioning clinic that runs five days a week. The UMC team is made up of eight general internal medicine specialists: Drs. George Dresser, Blair Wyllie, Saira Zafar, Dongmei Sun, Mary Moore, Larry Brownscombe, Hatem Salim and Jaclyn Ernst, as well as two nurses, a social worker, a dietician and a receptionist. This clinic is unique as patients are booked directly by ED staff into the clinic, without being triaged. Patients are sent home, knowing that they'll be seen by the UMC within 24-48 hours. The referred patients are often very complex with multiple co-morbidities, are on many medications, and have a higher acuity of illness.  
UMC is equipped to provide intravenous fluids, medications, blood transfusions and perform minor procedures. In addition, UMC has rapid access to investigations like CT scan and MRI which are not always possible for other clinics. These resources help patients receive necessary urgent care in a timely fashion and prevent admissions to the hospital, resulting in operational cost savings. UMC also accepts screened referrals from family physicians, providing the community with rapid access to quality internal medicine care. 
On average, 175 patients are seen in the clinic each month. This year during the COVID 19 pandemic, UMC's dedicated physicians, nurses and allied health staff continued to provide in-person assessments to patients, who otherwise would not be able to access in-person care as most clinics were either closed or only providing virtual care. Due to the condition of patients referred to UMC, an in-person visit for full assessment is very important. UMC saw 972 patients between March and September 2020. 
While celebrating the 25th anniversary of the Urgent Medicine Clinic, we remember Dr. David Boyd who is no longer with us. His smile, compassion, curiosity and dedication to teaching and to patient care inspired all those who knew him.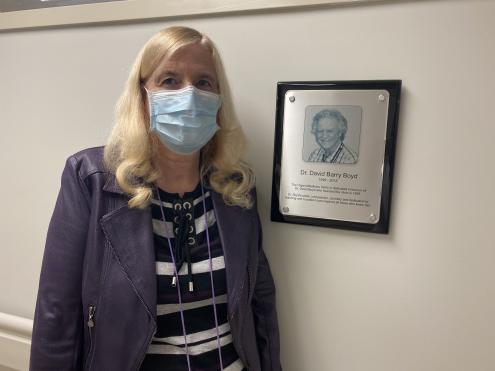 Dr. Mary Moore beside picture of Dr. David Boyd, both founders of the clinic.