April 13, 2015
The nearly 900 volunteers at London Health Sciences Centre (LHSC) will have a slightly larger smile and a bit more spring in their step as they celebrate National Volunteer Week, April 12-18.
"Volunteer Week is a great opportunity to go above and beyond the daily thanks and recognize individuals for the truly important role they play at LHSC," says Meaghan Innes, Manager, Volunteer Services, LHSC.
Each year, LHSC's Volunteer Services holds an appreciate event where all volunteers are thanked for their work and those who volunteer for five or more years are recognized with a Long Service Award. This year, 68 volunteers will receive Long Service Awards: 31 five-year recipients; 17 10-year recipients; eight 15-year recipients; six 20-year recipients; one 25-year recipient; two 30-year recipients; two 35-year recipients; and one 40 year recipient.
Diane Kincaid is this year's 40 year recipient of a Long Service Award.
She began volunteering at University Hospital during the building's infancy. Having only been open for three years, the stay-at-home mother of two boys wanted to keep occupied when her children were of school age. 40 years later she continues to volunteer twice a week and has made lasting friendships and memories.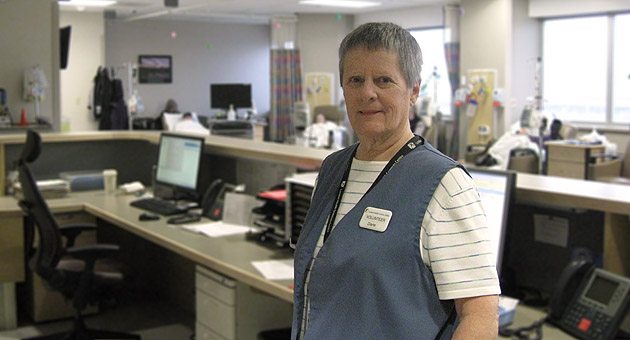 "I love volunteering," says Kincaid. "I have met so many nice people including hospital staff, other volunteers, and of course the patients."
Kincaid spent 25 years volunteering in the operating room waiting room and has since spent her time volunteering in the lab test centre and IV Therapy. "I enjoy the responsibility I'm given. I enjoy helping the staff and the patients. The most important thing for anyone is to enjoy what they do. I'm lucky that I found it early and can continue to do it."
Kincaid has seen University Hospital and LHSC undergo plenty of changes over 40 years. She has gone from manually tracking supplies and submitting handwritten orders to watching processes become fully automated and computerized. "There hasn't been one thing that I haven't seen change and that's for the better," she adds. For staff, she can be a source of information about University Hospital and perhaps a bit of an organizational historian.
What remains a constant is patient care. "It is, and has always been, a humbling experience to speak to patients and realize what others are going through."
"Our volunteers are a valued and essential part of LHSC," says Murray Glendining, President and CEO, LHSC. "I congratulate and thank Diane, and all of our volunteers, for the positive impact they continue to make to our organization."
Those interested in volunteering at LHSC can visit http://www.lhsc.on.ca/About_Us/Volunteer_Services/.