February 5, 2013

The impending birth of a child can be an overwhelming experience for many parents.  Knowing when and where to go when in labour, the process once in hospital, and participating in care decisions can certainly cause parents some anxiety. A collaboration between London Health Sciences Centre (LHSC), the Middlesex-London Health Unit (MLHU) and Western University aims to alleviate that anxiety through an orientation video titled: Birthing at the LHSC Women's Program.
The video is divided into 17 chapters, each approximately two minutes in length, illustrating the entire birthing experience at LHSC from arrival to leaving the hospital. Chapters include topics such as what to bring, the triage process, pain medications and epidurals, vaginal and caesarean births, and recovery. New parents can easily select and navigate through the chapters that feel most relevant to them.
"The video is focused on the patient experience," says Tim Rice, Director, Women's Care, LHSC. "We want to take as many of the unknowns about the birthing process and the hospital environment away, to reduce anxiety and prepare patients the best way we can." The videos can be found on LHSC's Youtube Channel and on LHSC's Maternal Newborn Care website.
Financial support for the videos was provided by the Service League of London, a volunteer organization whose business division, Debut Baby Photo, has been raising money for the Women's Care Program since 1975.
Many aspects of the video were organized with the help of a fourth year Western University Health Sciences student, Hillary Waud, under the guidance and leadership of the Obstetrical Care Unit educator Marg Belliveau. The video features volunteer actors including former patients, as well as LHSC staff from the Women's Ambulatory Clinic, the Obstetrical Care Unit (OBCU), the Mother Baby Care the Neonatal Intensive Care Unit (NICU), students, and MLHU staff. Participation of former patients and staff contributes to the most accurate portrayal of the hospital birthing experience possible.
"Through our nursing staff, we listened well to patient feedback and we also had great collaboration between LHSC, the MLHU, Western University and the Service League of London which has resulted in a project we can all be proud of," adds Rice.
More photos from the premier can be viewed at LHSC's Facebook Page.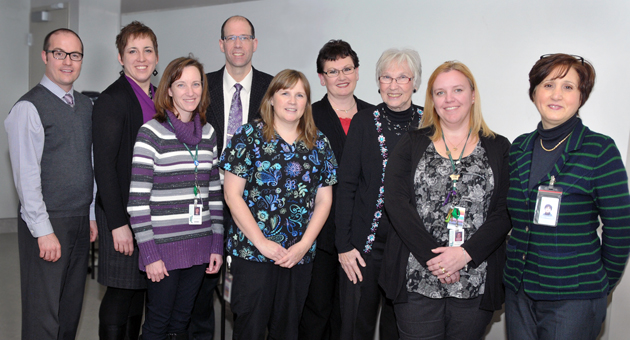 From left: Tim Rice, Director, Women's Care, LHSC, Heather Lokko, Program Manager, Reproductive Health Team, MLHU,  Melissa Lonnee, RN, MLHU, Dr. Daniel Belliveau, Assistant Professor, Western University Wendy Smith, RN, LHSC, Margaret Belliveau, Obstetrical Care Unit Educator, LHSC, Maria Beadle, President, Service League of London, Laurie Rees, RN, MLHU, and Silvie Crawford, Vice President, Patient Centred Care, LHSC, enjoy the premier of Birthing at the LHSC Women's Program.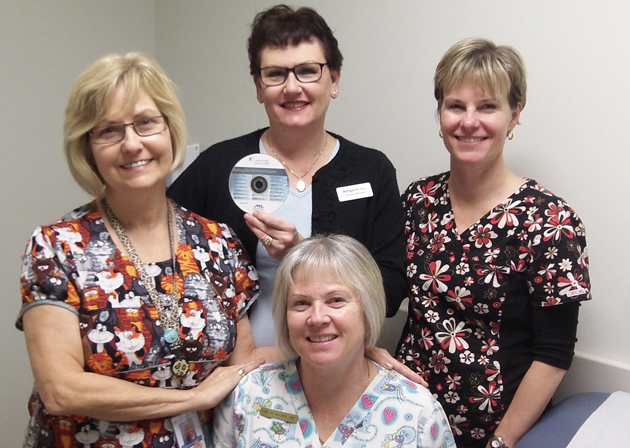 From left Carol Garry, RN, OBCU, LHSC, Margaret Belliveau, OBCU Educator, LHSC, Carmen Welch, RN, OBCU Pre-Admission Program, LHSC and Cathy McCabe, RN, MBCU, LHSC, celebrate the launch of Birthing at the LHSC Women's Program.