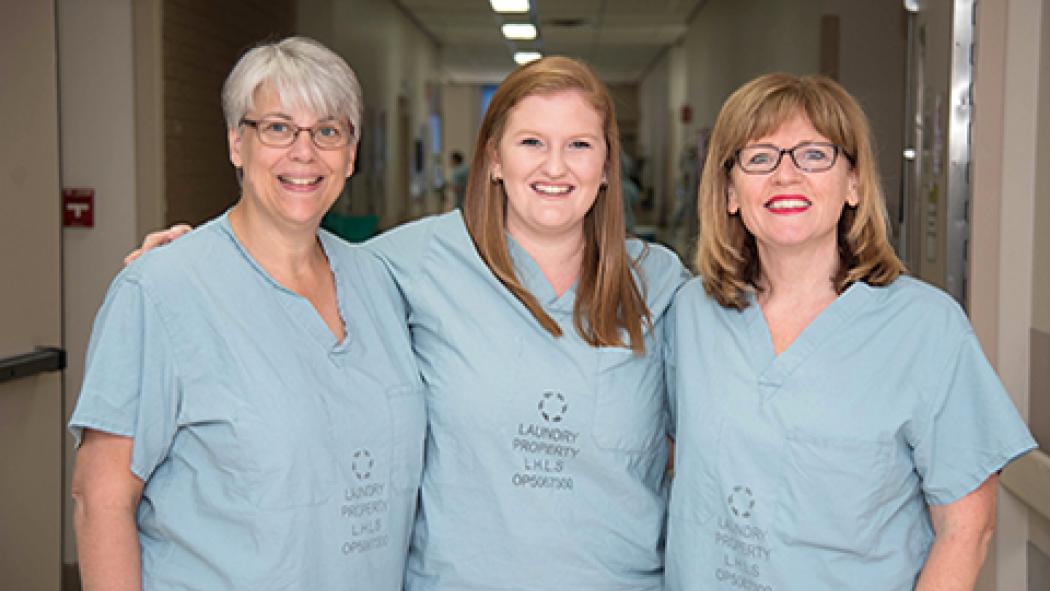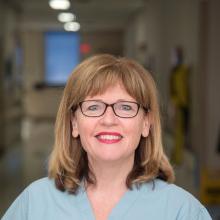 Robin Hicks – Operating Room Registered Nurse
What's one thing people would be surprised to learn about your role(s)?
As a Circulating Nurse in the OR, I enjoy being able to interact with every patient prior to transferring them to the OR. My role is to ensure that the patient has the required preoperative forms and tests completed and that they've met all OR admission criteria for their safety prior to OR entry. I am the patient's advocate and report anything outstanding or any pertinent findings to both the surgical and anesthesia teams prior to, or during the Surgical Patient Safety Checklist which is completed once the patient is in the OR and prior to having any anesthetic.
Tell us about your most gratifying experience at LHSC?
In my first few months as a Perioperative OR Educator, I enjoyed the challenge of coordinating and instructing the first LHSC/Fanshawe Collaborative internal OR Course in 2005-06 ... I had a great group of eight registered nurses in that pilot project. Very fulfilling, and I just loved it! I still work with some of those nurses today!
What made you enter your field of work?
In grade 6, I was in awe as I watched a man dissect a stingray on a picnic table while on a family vacation in South Carolina. I kept talking about how cool it was to my family and friends. In Grade 9, my mom gave me a fiction novel called "OR Nurse". After reading it, I was hooked! I geared all of my high school courses toward becoming an OR nurse. At the end of my 3rd year of Nursing at UWO, my consolidation month was completed in the OR at UH. At the end of my 4th year of Nursing, in the midst of my consolidation on a neuro/surgical floor, I was offered a job in the UH OR as part of a trial where 6 new grads were being hired and given a 6 month training OR course. And that's how it all began...
What does a typical day at work look like for you?
Based on my assignment, I prepare the OR theatre for the first case of the day. After the scrub nurse has set up the sterile table and we have completed a surgical count, I head to the Surgical Day Care unit where I interview our patient for admission into the operating room. Once ready I transfer the patient via stretcher to the OR theatre and help to settle them on the OR table. After the surgical "Briefing" about the patient and their planned procedure, I apply the routine patient monitors and then assist the anesthesiologist with the anesthetic induction and airway management of the patient. I will also assist with any invasive monitors when required. Next I help the surgeon and the rest of the OR team with the surgical positioning of the patient, the prepping, the sterile draping and any other set up required. After the surgical "Time out" is completed by the surgical team and the procedure is underway, I begin the electronic documentation of the procedure, those in attendance and the care provided. During the case, I attend to the needs of the patient, the scrub nurse, the surgeon and the anesthesiologist as required. I also prepare what I can for the subsequent case(s) so there is smooth flow from one patient to our next. Toward the end of the procedure, I complete a surgical count with the scrub nurse and include the result during the surgical "Debriefing". Once the dressing is applied and the patient is extubated and stable. I transfer the patient via stretcher to the Post Anesthetic Care Unit (PACU) and provide a report to the PACU nurse. I return to the OR and assist with cleaning and set up for the next procedure. I then return to the Surgical Day Care unit to interview and admit our next patient... and then the same cycle begins again...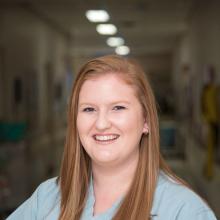 Stephanie Hamilton – Operating Room Registered Nurse
Tell us about your 1st day at LHSC?
I was a nursing student and my first clinical placement was at University Hospital on their inpatient medicine floor.  I remember I was extremely nervous to start my placement on this floor.  I remember it being very busy and they had all different kinds of patient's with different medical issues.  One patient in particular made me realize that this was the right career path for me.  She was having a bedside procedure and I was able to assist as well as comfort her in this experience.  From this I realized I really enjoyed in being a part of procedures and even more being able to help patient's cope.
What made you pursue a career in Nursing?
What made me pursue a career in nursing was one of my childhood neighbor's.  He was a young child who had cancer.  His mother kept a blog about his experiences with cancer, which mainly involved his experience at the hospital.  What stood out to me the most was the positive comments they had towards the nursing staff at LHSC's Children's Hospital and at Sick Kid's in Toronto.  The nurses were constantly advocating for him and his family, which made me realize I wanted to be able to help patient's and their families this way.  Also, what stood out to me was how terrifying his experiences in the Operating Room were.  I knew at this point I wanted to work in a fast paced environment, and the operating room would be the best place for me to work not only because it's fast paced but also because I wanted to make a difference in children's experiences.  I wanted to be able to make the Operating Room less scary to them and for them to leave with a more positive experience.  My goal was to be able to make patient's smile and comfortable even in the scariest time of their lives.
Tell us about your most gratifying experience at LHSC?
One of my most gratifying experiences at LHSC was the first time a patient's family emailed to recognize me.  It's nice to hear that you are doing a good job and making a difference.
What are your short and long term career goals?
Some short term goals for myself are to finish all my service lines and choose which service I would like to stay in.  I would also like to become a preceptor once I finish all my services and help supervise a nursing student.  I think it's important for those who did the Operating Room course through Western University to eventually become preceptors because they have a better understanding what the students are experiencing.  Some long term career goals for myself are to eventually go back to school and take my Master's.  I enjoy teaching and would like to move into more of a teaching role in the future.
Who is your mentor at LHSC? Tell us about him/her.
I have been very lucky to have multiple mentor's here at LHSC.  One of my first mentor's was my first charge nurse in General Surgery, Linda Caddick.  Linda made sure I was always comfortable in the room's I was placed in, as well as made sure to be in the room if I was ever doing something for the first time.  Linda was always there for me whether I had a question or during a difficult situation where I needed support.  As a new nurse I found it very difficult to advocate for myself, Linda always advocated for me and taught be about to become a better patient and self advocate.  I always felt I could come to her with anything.  One of my second mentor's was my fellow coworker, Colleen Parker.  Linda paired me with Colleen most days when I first got out of orientation and I was on my own.  Colleen is a very experienced General Surgery nurse and an excellent teacher.  Colleen taught me how to prioritize and organize as a circulating nurse, as well as, the steps in different procedures with the reasoning why we are performing this surgery.  We have a running joke that she is my "work mom," and I am forever grateful to have someone looking out for me and willing to teach me.  Without Linda and Colleen I would not be the nurse I am today.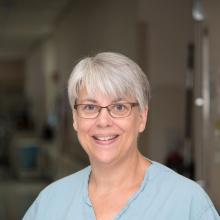 Marcie Boon – Operating Room Registered Nurse
What do you love most about your job?
I love that my job is fast paced and constantly changing. It's never dull. The best part is being integral to  a team. Doctors, nurses, Respiratory Therapists, x-ray techs, and  OR aides work together to care for each patient that enters the operating room.
What made you pursue a career in nursing?
When I reached a crossroads in my education, I chose to pursue nursing instead of a Masters in Psychobiology. Ultimately, I wanted a career working with people in a hospital rather than research animals in a lab. I have never regretted my decision.
Most gratifying experience in the OR 
In the OR I get to see improvement in patients' health. Many people are cured by the end of their operation. Seeing that every day of my career is truly gratifying.
What do you wish you had more time for at work? 
Operating Rooms must adhere to tight schedules, otherwise patients' surgeries risk being cancelled or delayed. Prior to surgery we only get a short time to develop a rapport with the patient. Patients need to know that they are entering a safe environment. Sometimes, I wish we had more time for this process.