Early delivery of mom's milk gives NICU babies the best chance at getting stronger.
November 8, 2012
Oral Immune Therapy (OIT) is a CQI initiative aimed to provide early colostrum to babies in the NICU. It was implemented in October, involving the NICU, the Obstetrical Care Unit and the Mother/Baby Unit at LHSC. Colostrum is the milk produced in the mother's breasts during pregnancy and is collected during the first few days following birth.  Colostrum helps defend babies against infection. 
The CQI councils were established by Professional Scholarly Practice to empower front-line staff through shared governance models and the implementation and actualization of Continuous Quality Improvement (CQI) throughout the organization.  
"Colostrum is the perfect nutrition for babies. It's called 'liquid gold' because it really is highly beneficial as the baby's 'first immunization'," says Michelle Angelini, Lactation Consultant, NICU and CQI Co-chair. Colostrum is high in antibodies and can provide immune-modulation by destroying disease causing bacteria and viruses, something that is especially important for sick or premature babies. In very low birth weight infants, it has been shown to decreasethe risk of necrotizing enterocolitis and potentially the risk of ventilator associated pneumonia. 
Over the summer, members of the OIT team began the education rollout to the health care providers in the three units on collection and administration of colostrum. The education included; a breast simulation model for practicing hand-expression, handouts on the protocol and the benefits of colostrum and breastfeeding, and an online quiz. In addition the NICU plans to set-up a self-learning station with displays and access to the simulation model. 
The colostrum is collected by the mother hand expressing into a syringe. The syringe is then labeled and transferred either by nurse, or by mom herself to her baby for administration. The colostrum is administered orally between the baby's cheek and gum and absorbed through the buccal cavity. 
"By starting early colostrum delivery via oral immune therapy, we encourage moms to begin pumping as soon as possible," says Cindy Ulrich, Registered Dietitian and CQI Co-chair. Oral immune therapy is given to the infant every three to four hours until the baby is able to take feeds by mouth.
The support and education of the mothers and families of the babies in the NICU is paramount to making this initiative a success. "We often come across moms who weren't planning to breastfeed but because their baby is premature or sick they reconsider and do in fact provide their milk for their baby," says Angelini. "But they are surprised at how easy hand-expression really is, and they feel empowered to do this for their children." In addition to well-educated health care providers, there are three lactation consultants in the perinatal program to help new moms with any questions or concerns.  For continuing support after they go home, mothers and babies can attend the post-discharge nutrition clinics, run by a multi-disciplinary team.
Launched in October, the OIT team will be evaluating the success of the initiative through data collection of expected outcomes. Leading the initiative are CQI council members; Cindy Ulrich, NICU Registered Dietitian CQI Co-chair, Michelle Angelini, NICU Lactation Consultant, CQI Co-chair, Gail Fernandes, NICU NP and EPIQ Coordinator, David Lee, Neonatologist and EPIQ Site Investigator, Donna Pletsch, NICU Clinical Educator and Stacey VanDePeer, NICU Nursing Liaison for CQI Council, along with collaboration from advanced practice nurses, clinical educators and leadership from the Obstetrical and Mother/Baby Care Units.
The NICU CQI council has been moving forward many great initiatives, with a great deal of the ideas originating from EPIQ (Evidence Based Practice Improving Quality), a national network of 27 participating NICU units across Canada that share practice improvements. The NICU CQI council represents all disciplines and embeds quality in all of their improvement initiatives. The NICU CQI council has been in existence since 1995, based on the philosophy of shared governance and team decision-making popularized by Tim Porter-O'Grady senior partner of an international health care consulting firm.
This is only one of the over 99 initiatives that have grown out of CQI councils. The CQI councils enable staff at the point of care, who have the specific knowledge of the issues and the solutions, to implement the changes necessary to increase the quality and safety of care delivery.
"This initiative is in-line with an overall goal in the province to encourage breastfeeding for newborns," says Lee. "We are encouraged with the initial results we are seeing and it is a true partnership between all three units that will make this initiative a success."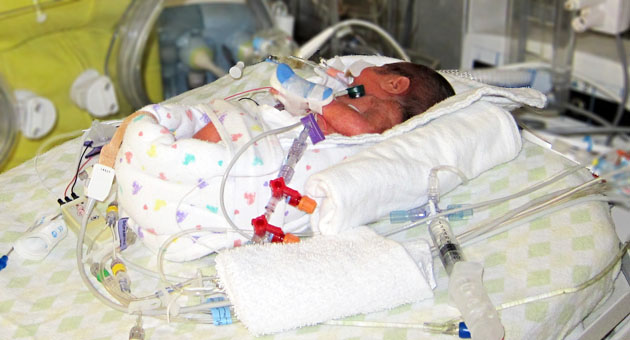 Extremely pre-term baby Dallas Schell, 24 days old, (pictured Oct 16) is about to receive colostrum from Mom, Christine via the Oral Immune Therapy syringe. Dallas was born in Sault Ste. Marie at 25 weeks weighing only 860 grams, and was transferred to LHSC immediately after birth. Dallas, Mom Christine and Dad Justin hope to return home in January.