May 27, 2016
Dr. Tomislav Svoboda has traveled to many places – including LHSC's London Regional Cancer Program to speak with staff and physicians at its Oncology Grand Rounds on May 17 – but one place you won't ever find him is inside a car or a plane, which he has exclusively avoided for the past 10 years.
Always conscious of the environment, on April 16, 2006 Dr. Svoboda was made aware of an ice shelf that had melted into the arctic and decided he wanted to do something poignant in an effort to promote carbon dioxide reduction. After a year-long "carbon strike" three years previously, he decided to double down on his efforts and abstain from using cars or planes to travel for five years. 
"After five years it had just become part of my lifestyle, so I just continued the practice," he told members of the audience.
Traveling mainly by train, bus, and his bicycle, Dr. Svoboda says that cars and planes are the most energy intensive modes of transportation, and are also the most used modes of transportation by society (75 per cent of personal travel is by car, and 17 per cent by plane.)
Science shows that in order to maintain equilibrium, the earth can absorb 340kg of CO2 per person each year. However, the average Canadian produces 4,300 kg of CO2 each year, making Canada the fourth highest producer of CO2 in the world.
While Dr. Svoboda admits that his carbon strike makes a limited difference in terms of overall carbon reduction, it's the awareness his efforts generate that is most worthwhile. "I like to think I'm stimulating conversation. I'm by no means moralizing and suggesting that others should do what I do, I just want to share my story," he said.
"We construct the kind of lives we want to live. I try to live my life with intention. And by figuring out how to live by those intentions it's led to some great adventures."
Dr. Svoboda says he appreciates things more than he did before his carbon strike. While about 90 per cent of his travel is fairly straight-forward (he can ride his bike to most places where he lives in Toronto) it's the other 10 per cent that poses interesting challenges, including how to travel for vacations—including to Europe. (He ended up traveling by freighter.)
"We lead our lives in ways that we think are normal," says Dr. Michael Lock, an LRCP oncologist and old friend of Dr. Svoboda. "Tom sees beyond the norm. In my mind I think it would be very difficult to not ever take a car, but he's shown how possible it can be."
Dr. Svoboda is a family physician at St. Michael's Hospital in Toronto, as well as an associate professor and researcher with the Department of Family and Community Medicine at the University of Toronto.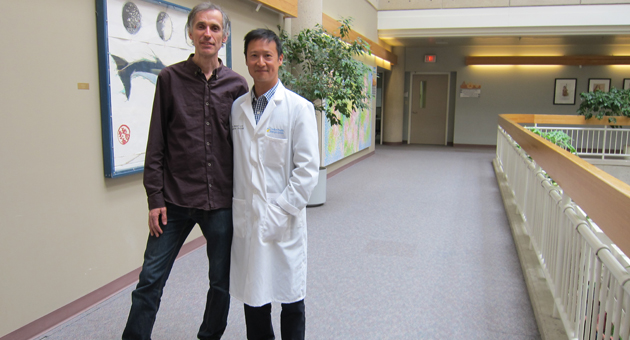 Dr. Tomislav Svoboda (left) is a family physician at St. Michael's Hospital in Toronto. He spoke at the LRCP Oncology Grand Rounds on May 17 about his 10-year long carbon strike. Dr. Michael Lock organized the presentation.