June 1, 2012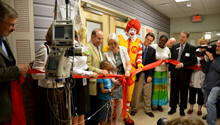 After years of careful planning, the Ronald McDonald Family Room is opening at Children's Hospital, London Health Sciences Centre, with a Grand Opening Celebration and Ribbon Cutting Ceremony on May 31, 2012. The Ronald McDonald Family Room, operated by Ronald McDonald House Southwestern Ontario, is a place of respite and relaxation for all families of children receiving medical care at Children's Hospital.
"We're excited to extend our mission into Children's Hospital, and offer support to even more families including those from London, Southwestern Ontario and beyond," said Margaret Anderson, Executive Director of Ronald McDonald House Southwestern Ontario. "We expect the Family Room program to have a huge impact on families from the region-providing parents the ability stay strong for their seriously ill or injured children and keeping families together when they need each other most."
Located on the 6th Floor of the hospital and measuring 1000 square feet, the Family Room is designed to feel completely removed from its hospital setting. It features a relaxing common area, a kitchenette with dining counter, computer stations, 3 sleep rooms, showers, and laundry facilities. The space is currently open daily from 9AM to 9PM Monday - Friday and 9AM to 5PM Saturday and Sunday. The sleep rooms will be available for overnight use in the near future.
London's new Ronald McDonald Family Room has been a collaboration between Ronald McDonald House Southwestern Ontario, Children's Health Foundation and Children's Hospital at London Health Sciences Centre. It has been made possible through the generous support of Ronald McDonald House Charities-Canada, The Management and Staff of Protek, Southwestern Ontario nofrills, London Professional Fire Fighters Association, and Ronald McDonald House Charities-Global.
"When a child is ill, parents are reluctant to leave the hospital," added Anderson, "and children heal faster and cope better with their families nearby. We are extremely proud of the many ways our Family Room will help make that happen."
For more information and to learn more on how to support the London Ronald McDonald Family Room, visit www.rmhswo.ca.