June 15, 2015
London Health Sciences Centre (LHSC) oncology nurse Pat Stalker is the newest nurse in Ontario to obtain the Oncology Nursing Certification and be recognized with the de Souza Nurse Designation. The de Souza Institute is an innovative learning centre dedicated to cancer care excellence and since 2008 has provided ongoing educational support and career counseling to more than 6,000 nurses.
In order to achieve the de Souza Nurse Designation, nurses must successfully complete a series of courses and conduct a clinical fellowship.  To date there have been over 6,000 healthcare professionals that have enrolled in de Souza courses.  Patricia is now part a distinguished group of 17 to complete the entire program and earn the de Souza Nurse Designation, and only the second nurse at LHSC to achieve this certification.
A ceremony was held on Friday, June 12 at the London Regional Cancer Program to present Pat with her certificate. Dr. Mary Jane Esplen from de Souza Institute joined Cory Gosnell, Director, Cancer Services and Jennifer Yoon, Director, Nursing Professional Practice, in offering congratulations on this distinguished honour. Also on hand was Fiona Barham, who was the first RN at LHSC to receive her de Souza designation, obtaining it in 2013. Fiona, together with Dr. Esplen, presented Pat with her de Souza pin. 
"de Souza brings together my two loves in nursing - oncology and education," said Pat. "Oncology nurses are fortunate to have this wonderful educational resource whether working front line or in other roles.  In my role as clinical educator I appreciate the variety of courses and the knowledge that these materials are both evidence based and standard across the province.  de Souza courses assist nurses to increase their knowledge to better care for their patients."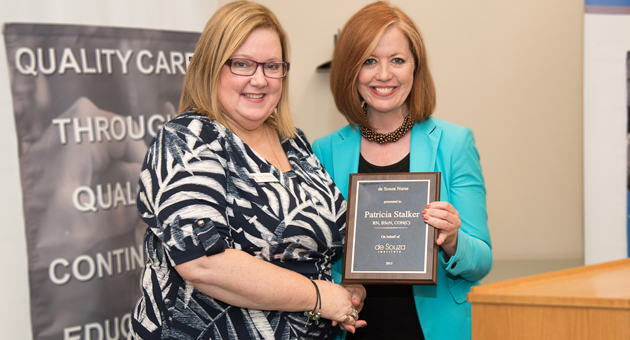 Pat Stalker (left) is presented with her certification plaque by Dr. Mary Jane Esplen, Director of de Souza Institute