October 9, 2015

On Sept. 28, Canadian Blood Services celebrated donors, partners, volunteers and peer recruiters from across the country at its annual "Honouring Our Lifeblood" event in Ottawa. These individuals and organizations were recognized for their selfless dedication and commitment to Canada's blood supply, stem cell network and transplant system.
The special ceremony honoured London Health Sciences Centre (LHSC) for its contribution to Canada's blood system.
As one of the country's top ten users of blood products, and the third largest in Ontario, LHSC joined Canadian Blood Services' Partners for Life program as a way to educate physicians and staff about the direct link between donors and patients. Four years later, the program has become a pillar of the hospital's community outreach programs.
LHSC continuously meets their annual blood collection pledge, which now exceeds 500 units per year. In 2014 they also increased their Partners for Life membership by 200. 
A full list of honourees from across Canada is available on Canadian Blood Services' website. 
"We are proud to recognize these amazing champions from our own community," says Michel Betel, Director of Donor Relations. "Whether they are a regular donor who goes that extra mile, a local company that leads by example, a volunteer who dedicates countless hours of their time, or a recruiter who engages their community to donate, they are all wonderful examples of the thousands of generous Canadians who are helping to save lives."
Quick Facts: 
Approximately 1 in 2 Canadians are eligible to give blood. Last year, 1 in 60 Canadians actually did.
Canadian Blood Services needs about 170,000 additional donors per year to maintain the national blood supply.
At any given time there are hundreds of Canadians searching for a stem cell donor.
More than 4,500 people are waiting for organ transplants in Canada today; however, only a fraction of Canadians are registered to donate
To book an appointment to, download the GiveBlood app or visit blood.ca.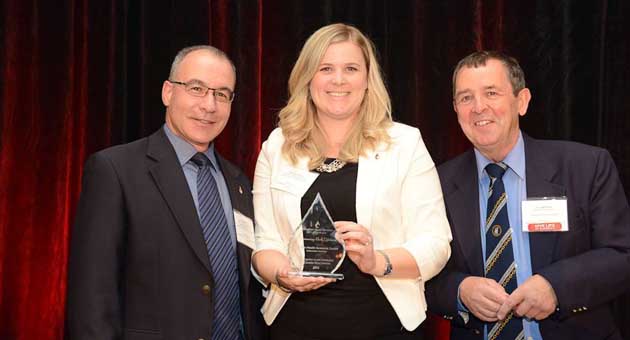 Tony LaRocca, VP of Community and Stakeholder Relations at LHSC, along with Kelly Hutchinson, LHSC's Program Champion for its Partners for Life program, receive the award recognizing LHSC's contributions to Canada's blood system at the national Canadian Blood Services "Honouring Our Lifeblood" event in Ottawa.