November 6, 2013
London Knights Josh Anderson and Chris Tierney help lift the spirits of children in Children's Hospital by visiting them every two weeks. In addition to bringing some London Knights memorabilia, this week the players also brought along the film crew following them throughout the season for "Quest for the Cup: A Season with the London Knights."
Produced by Fadoo Productions "Quest for the Cup: A Season with the London Knights" gives fans an inside look at the London Knights players and coaching staff on and off the ice as they battle through the 2013-14 season and prepare to host the 2014 MasterCard Memorial Cup. This 8-part series airs one Sunday per month until the end of the season on Sportsnet 360.
"The children and their families look forward to seeing the Josh and Chris during their visits," says Michelle Hart, child life specialist, LHSC. "This week there is a little extra excitement surrounding their visit."
See photos from their visit on LHSC's Facebook page.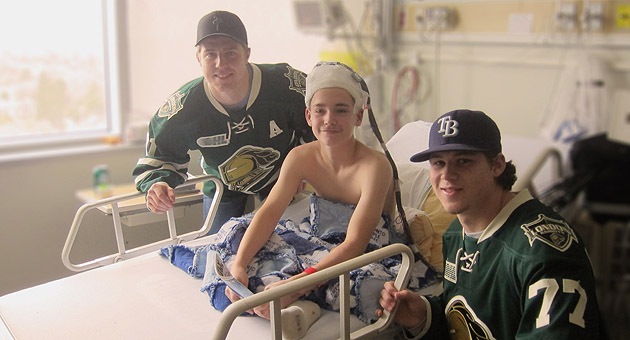 London Knights Chris Tierney and Josh Anderson visit with Spencer at LHSC's Children's Hospital.