September 27 , 2012
It's called the 'silent whisperer' because of its lack of symptoms, but its impact is far from silent. A diagnosis of ovarian cancer often brings with it fear, anxiety and a frightening realization that cancer can exist in your body without you even knowing it. It's for this reason that anxiety levels for women diagnosed with ovarian cancer skyrocket once treatments for the disease stop – a phenomenon that seems backwards to the expected feelings of relief upon completion of cancer therapy. For these women, knowing that their cancer may return undetected is not only frightening, but often all-consuming.

The Supportive Care team at the London Health Sciences Centre – which includes social work and spiritual care professionals among others- aims to help patients come to terms with the feelings they may have towards their cancer diagnosis and subsequent treatment. For women living with ovarian cancer, accessing this support has just been made easier thanks to a new process of automatic referral to Social Work upon diagnosis. This change is part of an overall shift toward a more team oriented approach to providing care for both body and mind.

"After treatment for ovarian cancer, you are living in one of the most challenging psychological states – radical uncertainty," says Spiritual Care Specialist Helen Butlin-Battler. "What I try to share with patients is that fear is undoubtedly part of the experience but it is possible to discover ways to put that fear second to living your life."

This was an important lesson for patient Elizabeth MacLeod, a single mom and high school chaplain, to learn when she was diagnosed eleven years ago. "You realize that when your mind is filled with 'what ifs', you are existing but not living. Looking back from the time I received my diagnosis until I finished treatment, I can see how badly off I was emotionally. I'm thankful for the support I received which helped me realize that I needed to take my life back from the cancer."

Now facing her third recurrence of this aggressive cancer, MacLeod says she has learned how to live each day to the fullest, recognizing that life doesn't need to stop because you're ill. "Cancer is one small part of my journey. I still have to cut the grass and take the garbage out. I still have so many things I want to accomplish and explore. I've learned to deal with realities in the moment, rather than trying to solve problems I don't have yet."

Social worker Heather Shaddick is the first point of contact in the Supportive Care department for women newly diagnosed with ovarian cancer, and recognizes that the need for counselling and support comes at different times for each individual patient, with some opening up quickly, hoping to find peace with their diagnosis, and others needing to take time on their own to process their diagnosis and the physical aspects of treatment before exploring their feelings toward the cancer.

"There are many reasons women come to see me, from needing practical advice and guidance on what support systems exist for them, to wanting to explore feelings of 'why me?', 'how do I cope?' and 'what do I say to my family?'", explains Shaddick. "Family members and friends also often need to explore their own grief, and I'm happy to help them understand and find coping strategies to help support their loved one."

Joyce Cossoy recently began seeing Shaddick, nine years after her initial diagnosis, to explore how best to tell her six year old granddaughter of her diagnosis and prognosis. "We are extremely close, and of all the things I've dealt with in the past nine years, the idea of explaining my condition to my granddaughter is one of the most difficult things I've had to do. She understands now why I wear a wig, and that sometimes after a fun, but tiring outing, I need to rest for a while."

Assessing the support available to women facing a similar diagnosis, Cossoy is buoyed by the increased presence of support care services offered now as compared to when she was first diagnosed. "It's a very individual thing, deciding when you are ready to see a social worker, or get involved in a support group. But if I could offer one thought to women who might be new to this journey, I would just say that there are people who can help you through this. They're easy to talk to, and they can help".

This is a sentiment shared by fellow survivor MacLeod as well. "It can be difficult to put yourself out there, but I wish more people would. At some point, you realize that you need to deal with this diagnosis on more than a physical level. You need to talk to someone who can help you realize that you are not the disease – you are a person dealing with a disease. Those are two very different things, but you can't always see it. You need to let them treat your whole being, not just your body."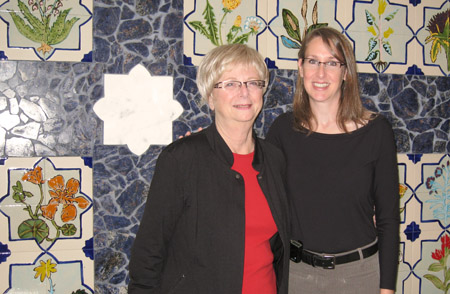 Joyce Cossoy (left) and Heather Shaddick, Social Worker (right).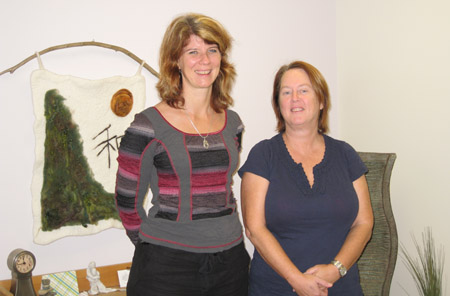 Helen Butlin-Battler, Spiritual Care Specialist (left) and Elizabeth MacLeod (right).