November 15, 2012
TrueBeam, a new state-of the-art radiotherapy system at the London Regional Cancer Program (LRCP) promises to provide more accurate radiation treatment to cancer patients while simultaneously reducing treatment time.
"This technology is an important advancement for patient care at LRCP," says Dr. Michael Lock, radiation oncologist, LRCP. "The work of a highly specialized team, including radiation therapists and physicists, has culminated in the ability to treat London's first patient with this new technology."
Patient Brunina (Bruna) Furrow is LRCP's first patient to benefit from TrueBeam. Furrow has breast cancer that metastasized to her bone and most recently liver. "Throughout my health-care journey I am grateful for the care that I have received," says Furrow. "Being offered this new technology continues to give me hope."
"We are able to see cancer cells better, target more accurately and therefore treat patients with higher doses of radiation while reducing the duration and quantity of their treatment," says Stewart Gaede, medical physicist, LRCP. "For example, we can set up a respiratory motion management strategy allowing us to only treat a patient during the exhale phase of their respiratory cycle, called respiratory gating, with increased efficiency."
Gaede works with radiation therapists to ensure accurate treatment and is responsible for ensuring radiation safety and machine quality.     
Using TrueBeam, health-care workers see a patient's anatomy in three dimensions on closed-circuit television systems, and thereby provide image-guided treatment. The system also monitors and adjusts to the movement and breathing of a patient, allowing health care workers to more precisely target cancer cells.
"With shorter and more accurate treatments, patients are less likely to move or be uncomfortable during their treatment which helps us avoid healthy cells," continues Dr. Lock. "Although we are using higher doses of radiation, patients will likely experience less toxicity."
View more photos of the TrueBeam system in use on LHSC's Facebook page.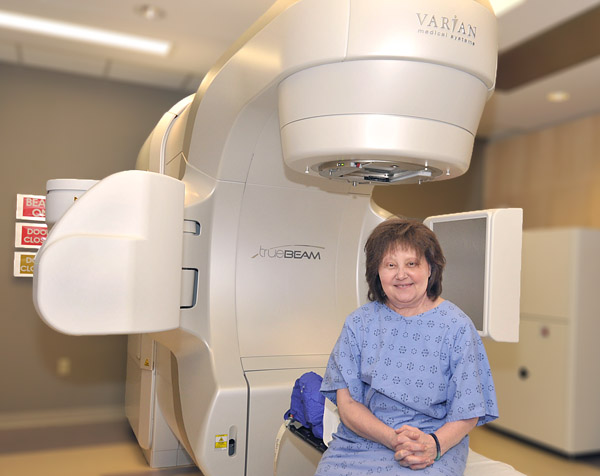 Patient Brunina (Bruna) Furrow is LRCP's first patient to benefit from TrueBeam.