April 28, 2015
Medicine tends to be one-size fits all. But is this the best approach? Made to Measure Medicine is designed for individuals to benefit from solutions developed with them in mind. At Lawson Health Research Institute, researchers are looking at the ways this approach improves care.
Café Scientifique is an informal opportunity to get involved with science. Through an open-forum discussion in a casual setting, these events address health-related issues of popular interest to the general public. A panel of three expert Lawson scientists share their unique research perspectives. Guests can then ask questions, participate in discussion, and gain insights from the speakers and from one another.
Over 60 people gathered on April 9 at Windermere Manor to learn about and discuss the research programs of Drs. Richard Kim, Tony Jevnikar and Jim Johnson. The theme was Made to Measure Medicine.
Speaker topics included:
 

"Personalized medicine: Available right here in London!" - Dr. Richard Kim

 

"Individualization of Therapy for Transplantation" - Dr. Anthony Jevnikar

"Engineering of the Shoulder and Elbow to Optimize Performance" - Dr. Jim Johnson
Dr. David Hill acted as moderator for the event facilitating conversation about the impact of personalized medicine and what the scientists see as "the next big thing" in their research fields. Lawson's next Café Scientifique event will be held in the fall.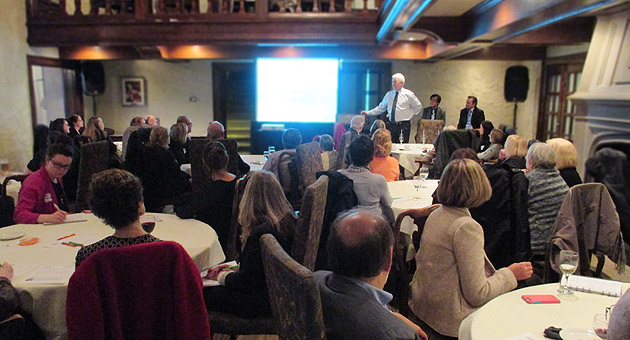 Lawson's Café Scientifique featured Drs. Richard Kim, Tony Jevnikar and Jim Johnson presenting on made to measure medicine.