November 21, 2013
The City of London's City Hall is lit purple this week, Nov. 15-22, in support of the Period of PURPLE Crying program at London Health Sciences Centre. The building's exterior lights are turned purple each evening starting at dusk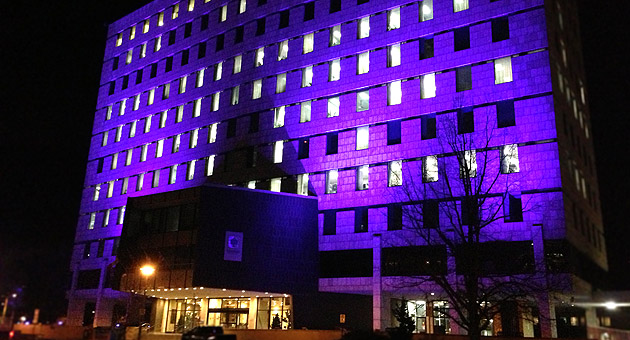 During the month of November, newborns receive purple caps as part of the Period of PURPLE Crying, a program that educates parents and caregivers regarding infant crying patterns and comforting strategies, as well as Shaken Baby Syndrome.Thank you to the generous knitters from here at home and as far away as Malta who created and donated over 2,500 purple hats!
Knitters may be able to see their donation worn by an infant as parents and caregivers are encouraged to share a photo of their newborn wearing a purple hat on Twitter and Facebook. Photos can be viewed on
LHSC's Facebook page
, on LHSC's Twitter account
@LHSCCanada
and by using the hashtag
#LHSCPurpleHat
.