LHSC employee organizes fundraiser to help flood-ravaged Alberta
July 30, 2013
The images of devastation are striking – Albertans who lost everything because the rain wouldn't stop. For those with friends and family in the region, thoughts are on how we can help the region rebuild and move forward.
For one LHSC employee, thinking about helping wasn't enough. Anne Salmon, a Unit Clerk in the Mental Health Care Program, knew she needed to find a way to help those affected, and wanted to involve her co-workers in the process.
"I was motivated to create a fundraiser for Alberta when I saw the images of loss and destruction that the flooding created for the people living in the area. I thought of my colleagues that have family out west - this hit close to home. I saw this as an opportunity for Canadians to help Canadians," said Salmon.
On July 11, the adult inpatient mental health team gathered for a fundraising potluck, with staff contributing both food and cash to the event. By the event's end, almost $300 had been raised for the Canadian Red Cross.
Salmon presented the proceeds to Red Cross officials last week.
"Good food always brings people together and gives staff a chance to socialize. I can't thank my colleagues enough for their support and generosity, and know that their contributions will go a long way in helping our fellow Canadians."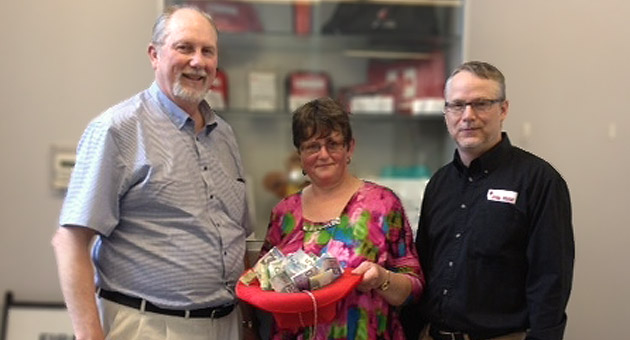 From L to R: Bruce Bogden, Canadian Red Cross Regional Council President; Anne Salmon, LHSC Mental Health Unit Clerk; Eric Adriaans - Director of Community Support Services, Canadian Red Cross