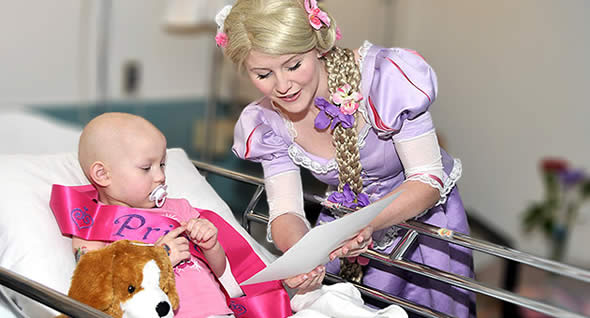 Organized by radiation therapy staff at LHSC's London Regional Cancer Program, three-year-old Vanessa Knelsen got a very special surprise visit from the princess Rapunzel, to celebrate the end of her radiation treatments.
Three-year-old Vanessa Knelsen loves princesses, and as a surprise on her last day of radiation treatment at LHSC's London Regional Cancer Program, Vanessa got a very special visit from Rapunzel, her favourite princess of all.
The magical visit was planned and coordinated by LRCP radiation therapist Quinn Benwell, She and several other members of the radiation therapy team developed a special bond with Vanessa during her four weeks of daily radiation treatments.
"She was very shy at first, and it took many visits to break the ice with her. Once we found out that she loved princesses, we would give her princess stickers and temporary tattoos for being such a brave girl during her treatment," says Cynthia Stulp, one of the radiation therapists who regularly treated Vanessa.
Wanting to do something special to mark her last day of treatment, Benwell contacted the local "My Perfect Princess Party," which provides quality princess entertainers for little girls' parties. Rapunzel, also known as Mandy Mates, agreed to donate her time to come and visit Vanessa.
"My mom used to work at the hospital, so it's just nice to give back," says Mates.
As part of an LRCP tradition, when a patient finishes his or her cancer treatment they bang the gong located in the program's waiting room. Holding Rapunzel's hand, Vanessa got her chance after finishing her last radiation treatment.
"Kids are really special and we don't see a lot of them here at the LRCP," says Benwell. "We just wanted to do something special for Vanessa."