April 19, 2018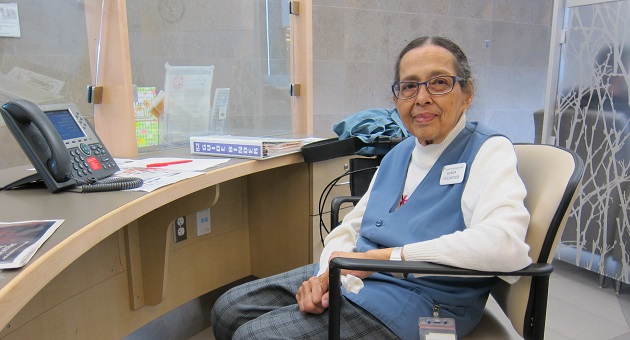 Shaila will be receiving her 25-year Long Service Award from LHSC's Volunteer Services, recognizing her volunteer efforts across LHSC's University and Victoria Hospitals. 
April 15 to 21, 2018 is National Volunteer Week and the recognition is well deserved for the nearly 900 individuals who donate their time to help others at London Health Sciences Centre (LHSC). Each year, LHSC's Volunteer Services holds an appreciation event where all volunteers are thanked for their work and those who have milestones over five years are recognized with a Long Service Award. This year 63 LHSC volunteers will be receiving long service award pins, starting from five years up to 30 years of service.
With 25 years under her belt, volunteer Shaila knows how to help patients and visitors navigate sprawling hospital sites of London Health Sciences Centre (LHSC). She can quickly point those wondering where to go in the right direction with the ease and confidence of someone who knows their way around.
Shaila is a guide volunteer at LHSC's Victoria Hospital (VH). She says the most rewarding part of her volunteer role is the ability to make a difference.
"It is inside me to help people. I have always loved helping people," she says.
At 83 years old, Shaila will be receiving her 25-year Long Service Award from Volunteer Services during Volunteer Week.
In 1993, Shaila began volunteering at the operating room reception desk at LHSC's University Hospital (UH). In that role she would work with patients and families as they arrived for surgery, taking patients back into the pre-operative care area. She would help keep families updated while they waited during their loved ones' surgery, and would help the surgeon identify family members afterwards so he or she could update them on the outcome of the surgery.
Shaila was encouraged to begin volunteering by her friends – many of whom she said are like family.
"My husband passed away in 1992 and afterwards I felt a great void in my life," recalls Shaila. "My friends and family suggested I consider becoming a volunteer at the hospital. I felt I would be returning something to the hospital where my husband had received treatment."
Several years ago, Shaila transitioned to a different role in Volunteer Services, acting as a guide to help people find where they need to go once they arrive at the hospital. Initially splitting her time between the UH and VH sites, she now volunteers exclusively at Victoria Hospital. Despite needing a walker to aid her mobility, Shaila will often walk patients and visitors to their location rather than just telling them where to go.
She credits the support and encouragement from staff in Volunteer Services for helping her achieve this volunteering milestone.
"I am so grateful to the team in Volunteer Services," says Shaila, who questioned whether she could continue volunteering after she began needing her walker. "The team in Volunteer Services helped me understand that I could still be of service to patients, and they wanted to help me hit 25 years!"
For those considering volunteering themselves, she says there is no better place than LHSC. "If you like to help people, just go for it! This is the place."