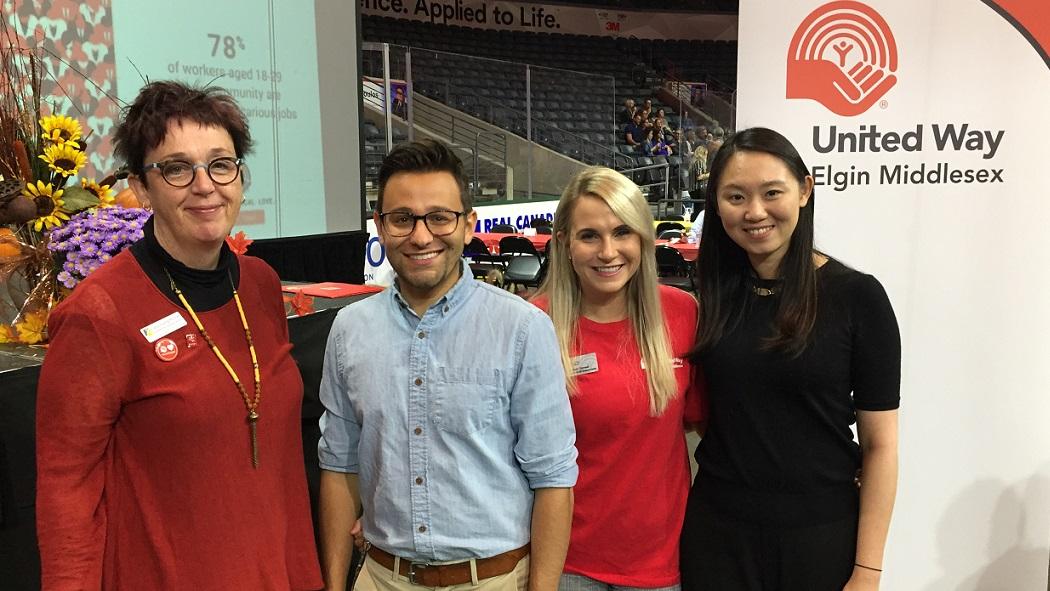 From left, Carol Young-Ritchie, John Vecchio (campaign co-chair, Christy Cornell (sponsored employee) and Yuki Wu (campaign co-chair) attend the United Way Harvest Lunch.
Carol Young-Ritchie is a nurse and hospital executive, and she knows the importance of placing patients at the centre of everything we do at London Health Sciences Centre.
Young-Ritchie is taking her passion for patient care beyond our walls as LHSC's United Way campaign Executive Sponsor and as a member of United Way Elgin Middlesex's Campaign Cabinet. The campaign cabinet plays an integral role in the collaborative success of our community's United Way Campaign. The cabinet includes local volunteers from various sectors across Elgin Middlesex collectively helping to plan and lead fundraising efforts and support the overall 2019 United Way campaign.
"I know regardless of your position at LHSC, caring is at the heart of everything we do. At LHSC, the United Way campaign demonstrates our collective organizational commitment back to our community and the people we serve. This is captured in our campaign theme of "care beyond our walls." Issues such as homelessness, poverty and barriers to education have a direct impact on health. Put simply, supporting United Way supports the health of vulnerable people. When we help vulnerable people to succeed we strengthen the health and prosperity of our community," explains Young-Ritchie.
When Young-Ritchie, Executive Vice President, Chief Nursing Executive & Chief Quality Officer, assumed the role of Executive Sponsor for LHSC in 2018, she felt privileged to work with a small committee of dedicated LHSC staff volunteers on the United Way campaign steering committee who contribute various skills and talents to run the campaign each year.
"The staff volunteers are amazing, and this year the involvement continues to grow and spread across our organization with unit and team ambassadors. I am grateful to Murray Doucette (VP of People and Culture), who agreed to be co-Executive Sponsor and Dr. Adam Dukelow, who is our Campaign Physician Champion. Great group of dedicated people supporting a great cause," says Young-Ritchie.

Young-Ritchie not only contributes her time and expertise to United Way, she is also a payroll donor through LHSC at the "leader donor" level. A leader donor contributes $1200 annually (just $47 per pay) to the United Way. A first-time donation of this amount qualifies you to double your impact as generous donors through the United Way Leadership Challenge Grant will match your gift dollar for dollar.
$1,200 is 33 kids participating in an eight-week after-school cooking and nutrition program at the YMCA.
$1,200 provides 900 hours of specialized hospice palliative care training; preparing 30 volunteers with the necessary expertise to provide comfort and companionship to individuals living with a palliative illness, as well as respite relief for their caregivers at St. Joseph's Hospice.
$1,200 connects a woman who has experienced sexual violence to a counsellor for four months of individual counselling at ANOVA
Young-Ritchie hopes others will be inspired to support the United Way, just as she has. "For me, this year's focus on #UNIGNORABLE issues resonates personally. Issues such as poverty and homelessness are simply unacceptable and I want to contribute to a community where everyone truly matters. Throughout my life, I have seen first-hand how United Way programing can make a difference. Collectively, we can all make a difference."