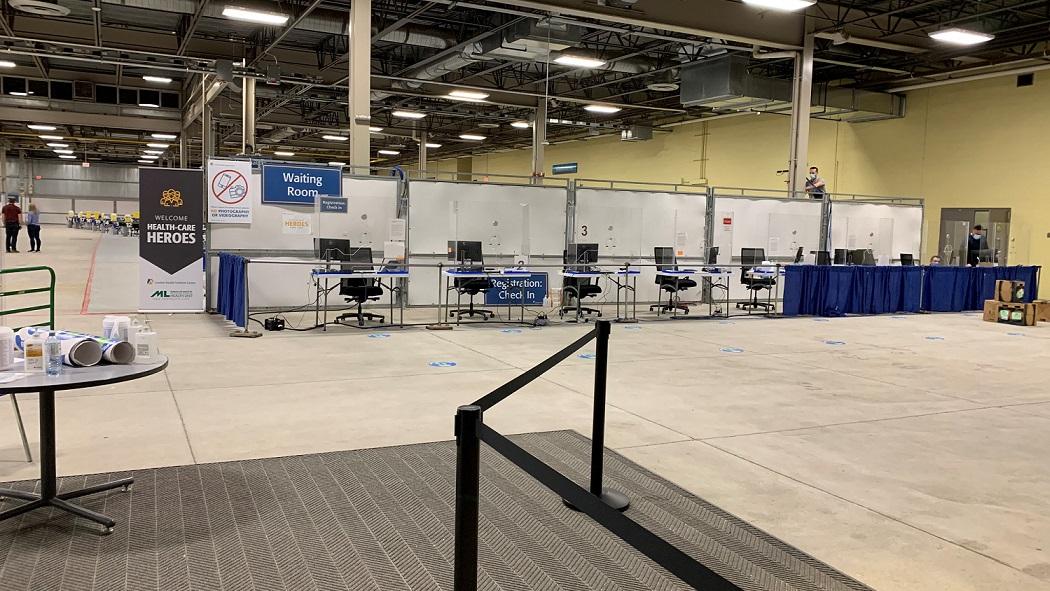 The registration station was moved further into the Agriplex building to create more entry space.
March 10, 2021
LHSC was pleased to welcome the 80+ age population to the Vaccine Clinic at the Agriplex last week after this group was included in the list of eligible populations as determined by the Middlesex-London Health Unit.
Representing almost 800 client visits daily, the arrival of this senior population presented the Agriplex team with unique care considerations including a high volume of caregivers attending with their loved one, as well as mobility challenges and the need for hands-on support for some seniors arriving independently. The Agriplex team recognized that some adjustments were needed to improve flow and process for this population.
And so on March 5, a team including ITS, Facilities Management, and clinic operations worked for several hours into the night to implement these improvements in order to improve the experience for seniors and everyone attending the Agriplex clinic. This team demonstrated their collaboration and expertise when they helped to launch the Vaccination Clinic in late December, and were able to put those same skills to use again on March 5, facilitating additional changes to the clinic such as:
Moving the Entry Control Officer (screening) stations and the Registration Clerk stations to create more entry space.
Expanding the space in the entry to enable use of an accessible exit door.
Creating dedicated senior and accessibility vaccinator stations to minimize travel distance for those with mobility challenges.
Dedicated a recovery room for senior and accessibility clients to minimize travel distance.
Dedicated check-out clerk located within this recovery room to create easy check-out and direct exit, thus eliminating the need for seniors to have to stand in queue.
These changes to flow and availability of wheelchair helped Jane, 96, who still lives independently and arrived at the Agriplex having booked an appointment online. She needed some extra support to physically make it through the registration and the reconfigured flow made Jane pleasantly surprised at the entire operation.
In addition to these logistical improvements, a Senior Friendly Navigator (SFN) role was implemented to support the needs of seniors at the Agriplex vaccine clinic. The SFN is available to support the age 80+ population from arrival to exit as needed, including completing consent forms and assisting throughout the vaccination appointment. Appointments are mandatory to get your vaccine so make sure you book before arriving at the Agriplex, but the SFN can also provide information on how to book if an 80+ person arrives without an appointment.
The SFN was able to support John, 89, to fill out his consent forms and walk through the process. John used to have a dairy farm and raised race horses that used to compete at Western Fair Raceway "I am so happy to get vaccinated in the building which holds fond memories for me, and that there was someone available to help once I arrived." To learn more about eligibility or to book a vaccine appointment, visit MLHU's website.
The same space prior to improvements: