ACE team tempts taste buds and helps patients at the same time
December 11, 2014
Staff on the Acute Care of the Elderly (ACE) unit were baking up a storm this week in preparation for their second annual Coffee Break fundraiser held Thursday on D6 at Victoria Hospital. The fundraiser is the brainchild of the unit's CQI council, and raises money for both the ACE unit as well as the Alzheimer Society. Money going to the society is directed toward Alzheimer research, while the dollars that stay on the unit are spent on items needed to make the area more 'senior friendly'.
Last year's sale brought in over $500 which went toward hand weights and exercise balls to keep strength and mobility up, as well as activity books and CDs to provide a welcome source of entertainment for the patients.
"Our staff members love their patients and are always looking for ways to keep them engaged and active," says ACE Coordinator Sarah Stevens. "They're extremely dedicated, and consistently go above and beyond for them. It's wonderful to see the difference they are making."
Goodies for the sale were provided by friends of the unit including nurses, PSWs and allied health professionals, who also took turns manning the table and delivering treats to staff on other floors that couldn't get away.
"The Alzheimer Society is a charity close to everyone's heart, as so many of our patients are affected by the disease," says Stevens. "I'm proud of our team for choosing to raise funds for them, and for our patients currently in hospital. This fundraiser is just one more example of the extraordinary care our staff is committed to providing each and every day."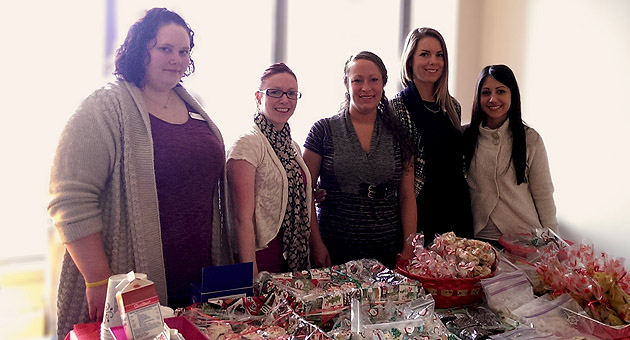 From Left: Caitlin McIntyre, Clinical Educator ACE, Amanda Roesner, RN ACE, Bridget Geraghty, RN Medicine, Jennifer Petrushevsky, RN ACE, Kathleen Greco, RN ACE