May 8, 2013
On this day, 26 ovarian cancer organizations from 17 countries around the world will unite to educate their communities about ovarian cancer and its symptoms. For women living with the disease, and their families and friends, World Ovarian Cancer Day will build a sense of solidarity in the fight against the disease.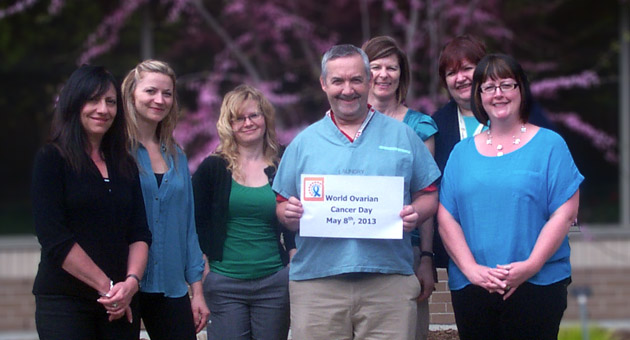 Staff at LHSC's London Regional Cancer Program supporting World Ovarian Cancer Day.
Ovarian cancer is diagnosed annually in more than 220,000 women, and is responsible for 140,000 deaths each year. Statistics show that just 45% of women with ovarian cancer are likely to survive for five years compared to up to 89% of women with breast cancer.
JOIN THE PLEDGE to help spread the word about Ovarian cancer.
Register for the Run for Ovarian Cancer in London on May 12 in support of the Translational Ovarian Cancer Research Group at the London Regional Cancer Program.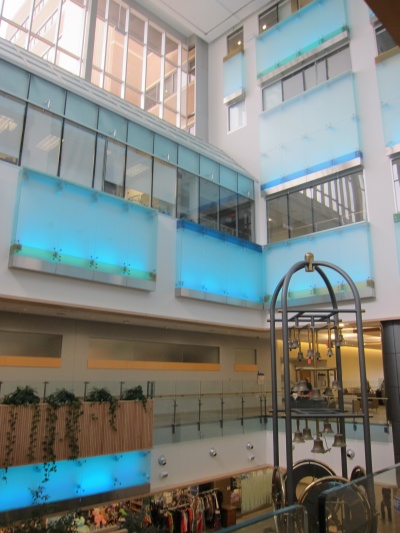 LHSC's North Tower lit up in teal to support World Ovarian Cancer Day.
Facts about ovarian cancer:
All women are at risk of ovarian cancer.
Awareness of the early warning signs of the disease could save lives.
Diagnosis at an early stage vastly improves a woman's chance of survival.
Ovarian cancer is often diagnosed at a late stage.
Many women mistakenly believe the cervical smear test (Pap test) will detect ovarian cancer.
What increases risk of ovarian cancer?
Family history of breast, ovarian or colon cancer
Never having children
Getting older – it's most common after age 50
Never having used oral contraceptives
What reduces the risk of ovarian cancer?
Birth control pills, term pregnancies, breast feeding, tubal ligation, removal of the ovaries and fallopian tubes if risk is high. If you will be having gynecologic surgery, speak with your doctor about removal of the fallopian tubes. The most common ovarian cancer may originate in the fallopian tubes.
What you can do?
Have a pelvic exam every year. Let your doctor know if you have had symptoms that are new for more than three weeks and sk about:
a pelvic exam
a transvaginal ultrasound
a CA-125 blood test
What to look for?
increased abdominal size/persistent bloating (not bloating that comes and goes)
difficulty eating/feeling full quickly
abdominal or pelvic pain
needing to pass urine more urgently or more frequently
Ovarian Cancer Canada website: http://ovariancanada.org/