September 11 , 2012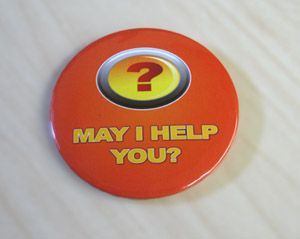 "May I help you?" is a simple, but unspoken, phrase greeting patients, families and visitors throughout LHSC's Victoria Hospital. A large button featuring prominently on volunteers' vests serves to invite questions.

Volunteers are already encouraged to ask "May I help you?" to people who appear lost, but Meaghan Innes, volunteer services, VH thought a button might help people identify those that could help them. "Throughout the day our volunteer guides may be away from their stations when they escort people to their destinations, the buttons help identify them as they walk throughout the hospital," says Innes.
Volunteer guides can be found at desks located in C2, B2, E1 and the intersection between zones C and D. The guides can answer general questions about the facility, provide directions, and offer a helping hand. Even if volunteers don't have answers, they know where to turn to find them.

The buttons are catching on with other volunteers as well; "some who used to be guides but now volunteer in other areas are also choosing to wear them," says Innes. "Our volunteers are outgoing and friendly – they enjoy working with people so people shouldn't be shy to approach them."

Anyone interested in volunteering at LHSC can visit http://www.lhsc.on.ca/About_Us/Volunteer_Services/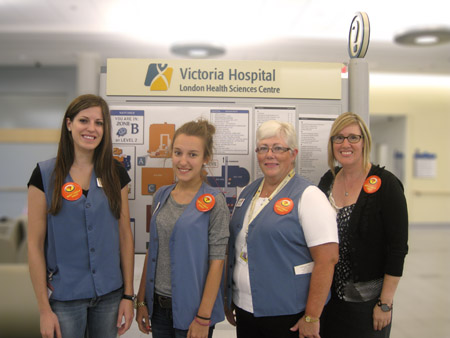 From left, volunteers Kylen Van Osch, Tanja Lojpur, and Rosanne Hitzeroth model their "May I Help You?" buttons with Meaghan Innes, volunteer services, VH.