May 25, 2018
May is National Physiotherapy Month offering a chance to recognize the important work LHSC physiotherapy staff do throughout our hospital.
Liver transplant recipient Sean Parmley has no doubt the physiotherapy he received both pre and post-transplant was the key to his successful surgery and recovery. "I was referred to physiotherapy in the Multi-Organ Transplant Program (MOTP) to help with issues I was having with swelling and muscle wasting in my legs," said Parmley. "The doctors told me that the stronger I was going into my transplant, the better my outcome would be. What I didn't know when I started the physiotherapy program was the incredible support I would receive from the physiotherapy staff not just in supporting me physically, but also emotionally. They are wonderful motivators, and the environment – sitting beside others waiting for their transplants, or those who had just received them, sharing and receiving encouragement – was extremely beneficial during a very challenging time."
MOTP physiotherapy associate Tracy Fuller says pre-transplant conditioning is key to improved outcomes, and faster recoveries. "Patients sometimes think when they're not feeling well the best thing to do is rest in bed and preserve their energy. In fact, the stronger and more active you are – within the limits of your condition – the better you will feel, and the sooner you'll be out of hospital post-transplant."
The MOTP physiotherapy program not only assists patients who are in hospital, but also creates exercise programs for patients to do at home to help maintain and build their strength. "The MOTP physiotherapy program is a great example of the results that moderate exercise and strengthening can have on patients both pre and post-illness," says physiotherapist Kristin Morris. "We see the success of this model both in overall patient outcomes, and in how quickly we can get them home and on the road to recovery."
Says Parmley, "I was told I would be in hospital after my transplant for 10-12 days, but I was feeling so well thanks to the physiotherapy I received in hospital that I was released after only 8 days. I can say without question that my experience in the physiotherapy program made all the difference in turning my devastation about my diagnosis into hope that I would one day have a successful recovery. The physiotherapy staff was there when I was at my sickest, and they continue to be there for me at my healthiest. Never once have they waivered in their plans for me, and that has made all the difference. I can't say enough about how important they are, and how grateful I am to them for all they have done for me."
Thank you to all LHSC physiotherapy staff for making a difference every day!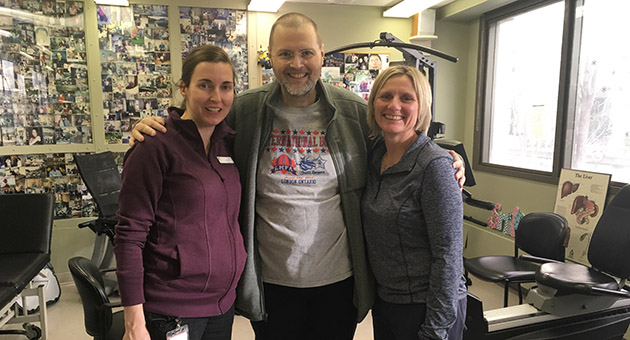 Kristin Morris, physiotherapist; Sean Parmley; Tracy Fuller, physiotherapy associate