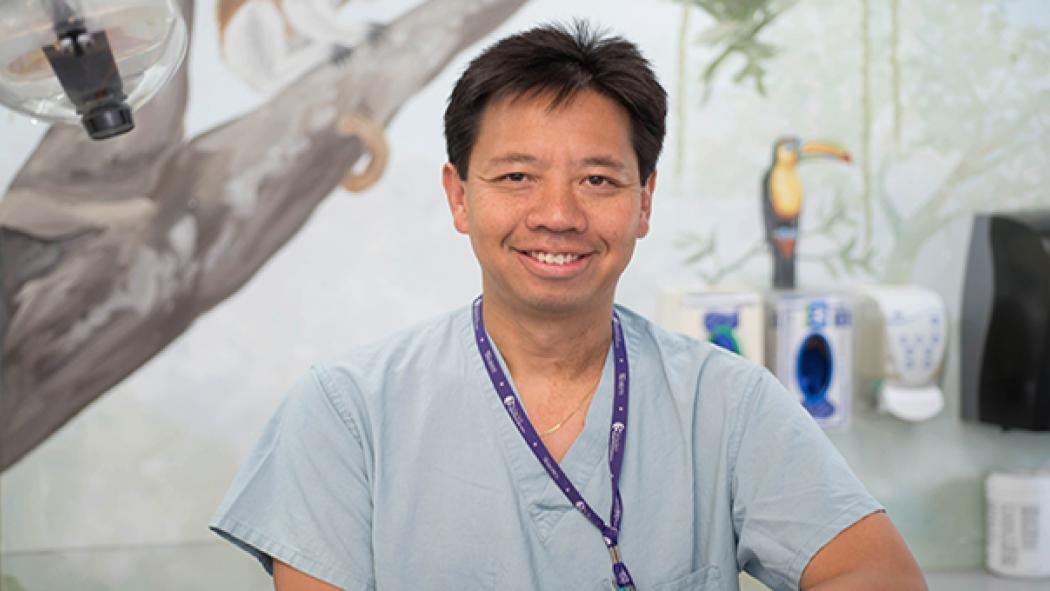 September 19, 2018
What do you love most about your role?
There are two halves to my role and I love doing both!  I see healthy kids for checkups, cleanings, fillings, extractions, etc., and I also see kids and adults with special needs. This duality keeps my hospital practice both busy and "un-boring".   Sick or healthy, young or old, I believe in holistic care of the patient.  We are treating the person attached to those teeth.  Whether we're simply eradicating disease, or whether we're working with other doctors to literally save lives, we are all helping to improve a patient's quality of life.  Anyone who's had a toothache or an abscess, or even a traumatic dental injury, knows how important dental health is and how difficult it is to achieve and maintain.  As the saying goes, "good oral health is vital to good overall health".
What do you find challenging?
Two parts: public and professional.  First is the lack of public education regarding the prevention of dental disease and trauma.  In theory, most of what I do is preventable.  Studies have shown that 46% of children have had a cavity by 5 years old (or SK), and 30% of children have hurt their baby teeth in some way or another.  Cavities are the most common disease in children (5x more common than asthma) and the most common surgery in preschool children in Canada  The ongoing needs exposes the issue of access to dental care.  There is a lack of resources to meet all of the demand, especially because Dentistry is not part of Canada's universal health care system.  And this translates into long wait times.  Second, with respect to my profession, it's my responsibility as a leader to promote the ideas of getting kids to a dentist by 1 year old, making dental care available and affordable to everyone, establishing community fluoride use, etc.  In September, I'm privileged to become the President of the Canadian Academy of Paediatric Dentistry (CAPD) and I hope to continue to advocate for everyone's oral health, not only locally, but also provincially, nationally and internationally.  
Describe a typical day
The clinic provides primary and secondary care to healthier kids, as well as tertiary and quaternary care to those with more significant dental and medical needs.  For example, while one of my assistants is completing a check-up on a 45 year-old man with Down's Syndrome, I'll be fixing a cavity or extracting a tooth under conscious sedation on a healthy but anxious 3 year-old in another room.  I may also be in the OR fixing a child with 16 cavities or a patient with cerebral palsy with only 1 cavity; but they both need treatment under general anaesthesia.  Regardless of the day, there is always a dental resident or two that I'm supervising and teaching to do the very same things.   All of my days are busy and can be intense.  
Tell us about your most gratifying experience
There are truly so many.  I can't just pick just one.  There's the 8 year old who shows up in the Paeds ER with a totally swollen face, and we manage to extract the abscessed tooth in the moment.  There's the 3 year old who just had 8 root canals completed, 12 fillings placed and 4 abscessed teeth extracted in the OR, so you know he's out of pain, he's going to eat better and in general, he'll be healthier.  Maybe the most dramatic, and the "life and death" part of my job is the kid who needs all of their teeth fixed and mouth to be disease-free before they can have cardiac surgery or a bone marrow transplant.  Poor oral health can seriously harm a medically-compromised patient, both in treatment and in recovery.  It can be high risk, but also high rewards.   
What's one thing people would be surprised to learn about your role(s)?
It seems strange, but after 22 years here, there are still some people in the hospital who don't seem to know that we exist. I was the first in-house, full-time paediatric dentist at what was then called the Children's Hospital of Western Ontario (CHWO) in 1997.  And I still am.  I'm also presently only 1 of 11 paediatric hospital Dental Chiefs in Canada.  Even if people know about Dentistry, they don't know what we do.  In other words, it's not just cleanings and fillings.  We treat both healthy and sick kids and adults, provide programmatic support to other services and we have an academic mission to train students, doctors and dentists.  Did I mention that we're on-call for London and the surrounding areas "24/7/365" too?