London Health Sciences Centre launches new peer support program
July 20, 2012
Mental health inpatients at LHSC now have access to a new peer support program aimed at helping them cope with addiction issues they are facing along with their mental health concerns. An open house was held Thursday to introduce staff, donors and community partners to the New Horizons Resource Room.
The New Horizons Room has been created to provide a safe and supportive environment for patients facing concurrent mental health and addiction challenges to access information and peer to peer support. Peer support groups are facilitated by registered nurses in the mental health program. The room also serves as a resource library for patients seeking their own independent learning in this area.
"We know that there is a strong correlation between mental health issues and addiction. For many years, the two have been treated separately, not always with great success. Our hope is that by providing this new source of support for our patients, the healing and recovery can be a more seamless process", says Beth Mitchell, Director, Mental Health Care Program.
Funding for this room was generously donated by The Agape Foundation of London and The Blackburn Foundation.
See photos from the open house by visiting LHSC's Facebook page.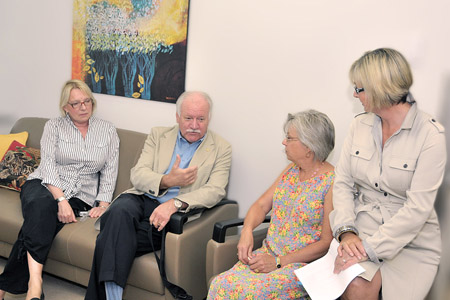 From left to right: Idske Rienstra, Occupational Health Nurse, Jim Swan, President of The Agape Foundation of London, Mary Reid, nurse and creator of the New Horizons room, Laurie Gould, EVP, Patient Centered Care.