The 11th Metabolic Family workshop was held on May 8 at the Best Western Lamplighter Conference Centre, bringing together families from across Ontario all facing similar challenges related to metabolic disorders for a day of learning and sharing.
Metabolic disorders, also referred to as inborn errors of metabolism, are multi-systemic in nature, and children and adults living with them can have problems with growth, developmental delays, and issues with organs such as the heart and kidneys, brain and others. These disorders can require special restrictive diets, as well as enzyme replacement therapies, medications and organ transplant. The metabolic section at LHSC currently treats close to 500 patients with metabolic disorders. 
Families in attendance were invited to interact with speakers, learn about various metabolic formulas and foods, see what is new with treatment and research, visit displays of metabolic food products and learn about the resources available in their community. The day also provided an excellent opportunity for families to talk with each other, share their experiences and make a few friends along the way. 
The day opened with greetings from Dr. Chitra Prasad, Director of Metabolic Clinic and Bob Giorgini, Director, and Partner Liaison for the Children's Health Foundation. The foundation's sponsorship as well as sponsorship from several other companies ensures that families do not need to pay to attend. 
Guest speakers throughout the day covered topics such as therapies and their impact on metabolic disorders, coping strategies and adult resiliency. Dr. Pranesh Chakraborty, Director of Newborn Screening Children's Hospital of Eastern Ontario and Dr. Beth Potter, Associate Professor School of Epidemiology, Public Health and Preventive Medicine University of Ottawa were the invited speakers.
Dr. Julie Richard Psychiatrist at LHSC led the discussion on adult resiliency.
The following day a low protein workshop was conducted under the leadership of Suzanne Ratko (dietitian). Chef Kevin Brown gave hands on demonstration to families with PKU (Phenylketonuria) and other diet related disorders. 
Staff from LHSC's Art Therapy and Child Life programs was on hand to work on activities and projects with the children and teens in attendance. 
The family presentations included Lama Kadri, a young woman with PKU, who shared with the group her success story of how she managed her health and dietary control, and now helps others as an RPN. Justin Massicotte, a young boy with mucopolysaccharidosis 1 who has had cord cell transplant, corneal transplant shared a video of him performing his new hobby - breakdancing.  
Young Jasper More became the star of the workshop without even setting foot on stage.  Jasper's parents, Darren and Pam, shared a 'Day in the Life' video to demonstrate that despite Jasper's diagnosis of MPS VI, a rare lysosomal storage disease, their family is just like any other. 
"Jasper is a little boy who happens to have MPS VI," says dad Darren. "But he is still Jasper. His illness doesn't define him". 
Jasper's video showed the realities of living with a metabolic disorder –I.V. enzyme replacement therapy every week with visits from Child Life specialists to help pass the time in hospital while waiting for lengthy treatments to finish. But more importantly than that, the video showed an active boy who loves the outside, playing sports, dancing and singing. There were few dry eyes as Jasper broke out into song at the end of the video, singing a favourite John Denver song "I Want to Live" that summed up perfectly the theme of the day.
"I want to live, I want to grow, I want to see, I want to know, I want to share what I can give, I want to be, I want to live."  
Dr. Prasad expressed her sincere gratitude to Dr. Tony Rupar (Biochemical Laboratory Director), event sponsors, Children's Health Foundation, parents, families, the entire metabolic teamand volunteers - in particular Jennifer Culp - mother of a PKU child who for 11 years has run the day care for children at metabolic family workshop. In Dr. Prasad's words "the success of this workshop for last 11 years is due to the belief, the hard work and dedication of many. We have established a unique model of metabolic family workshop here in London that is now being emulated by others in the country".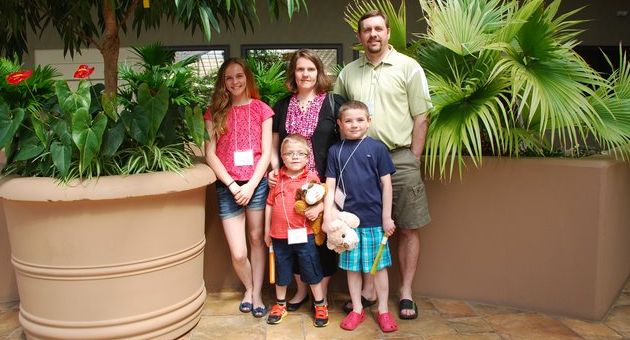 Jasper More (center in red shirt) and his family