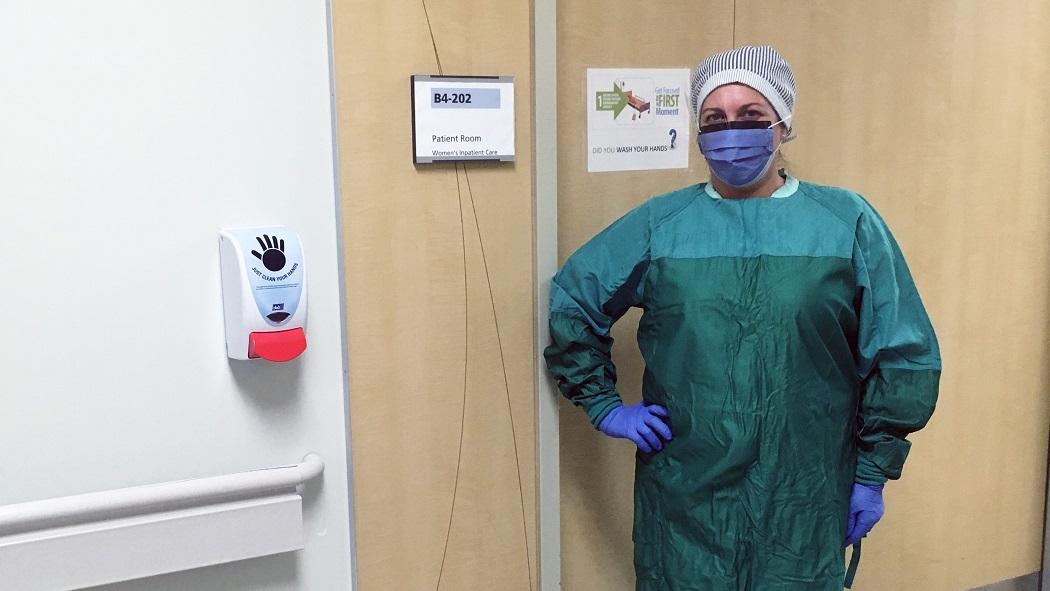 May 5, 2020
Midwife Sarah Redfearn in Personal Protective Equipment for a birth at LHSC.
Supporting clients in the midst of a pandemic
Designated the International Year of the Nurse and the Midwife, 2020 is providing new challenges to midwives as International Day of the Midwife, May 5 approaches. At London Health Sciences Centre (LHSC), midwives are essential primary care providers who are providing quality care for their clients during this uncertain time.
Midwives provide continuity of care, from early pregnancy to six weeks after birth through their clinics. They focus on close, personal relationships with their clients. During COVID-19, however, this is proving to be a challenge. To keep clients and themselves safe and reduce transmission, they are holding fewer in-person visits. Like many care providers, they too have switched to phone and virtual visits with clients for non-essential appointments.
One of the impacts they are seeing is an increase in calls from clients regarding COVID-19. Many clients are worried about symptoms, impact on their delivery, visitor restrictions, and impact on the health of the baby. "With information changing so quickly, it's difficult for them to keep up," explains Elleana Hoekstra, the Associate Chief of Midwifery Department at LHSC. "So, we are trying to alleviate some of the stress."

To help reduce the stress, midwives are able to order and draw all of the routine lab tests offered during the pregnancy, birth and postpartum continuum. This helps keep midwifery clients out of the hospital and community labs which lowers their risk of exposure during the pandemic.
As primary care providers, midwives hold privileges at LHSC, similar to a family physician or obstetrician. "One question we've been receiving a lot is whether we count as the mother's support person when they go into labour. We do not, so they can still have their support person with them," mentions Elleana.
When a client arrives at LHSC, they enter triage by themselves and once they are admitted, their support person is able to join them in the birthing unit and bring the belongings. At this time, the support person is not allowed to leave the birthing room.

Elleana and her colleagues are also noticing an increasing interest in home births among clients. "To be eligible for a home birth, the client must be low-risk, healthy, and without COVID-19 symptoms," says Elleana.

For symptomatic patients, midwives are recommending hospital births only. During delivery, both at home and in the hospital, midwives are wearing appropriate Personal Protective Equipment (PPE) to keep themselves and their clients as safe as possible.

To help support midwives in the rapidly changing environment, LHSC's Women's Care Department is holding multiple conference calls weekly with the Chief of the Midwifery Department to provide updates on precautions and recommendations. While LHSC is no longer offering tours of the birthing unit for clients, a virtual tour is available on the Women's Care website.
Elleana is noticing a difference in the atmosphere during a birth whether it is at the hospital or at home. Everyone present is trying to maintain social distancing and people are not congregating like they used to. "There is also a sense of anxiety and uncertainty. But, there is a strong sense of community and working together for a shared goal," she reflects. "There's comradery between departments. This is effecting everybody across the board."
Midwives are prepared to support additional deliveries in the hospital and early discharge opportunities for our collective patient populations during COVID-19 should the need arise.
As the COVID-19 situation continues to develop, midwives are on the front-lines continuing to provide primary care for expecting clients. This year's International Day of the Midwife is an opportunity to recognize the work they do as partners of the hospital.