February 5, 2014
London Health Sciences Centre (LHSC) was pleased to welcome the Honourable Deb Matthews, Minister of Health and Long-Term Care and MPP for London North Centre for a recent announcement.
Minister Matthews was on-site at LHSC's University Hospital to witness a demonstration of ENITS (the Emergency Neuro Image Transfer System) which is a centralized, secure, web-based picture archiving and communication system that makes remote neurological consultations easier, faster and more accurate. Referring hospitals across the province 'push' head CT images to ENITS where they can be accessed by neuro specialists anytime, anywhere.
Through a partnership between the Ontario Telemedicine Network (OTN) and eHealth Ontario, ENITS—currently used for head trauma patients—has expanded to provide 24/7 access to expert care for stroke patients.
"LHSC is pleased to have worked with the Ministry of Health and Long-Term Care, OTN, CritiCall Ontario, and eHealth Ontario to expands ENITS to include stroke consultation," said Murray Glendining, LHSC's Acting President and CEO. "By connecting physicians through ENITS, scans can now be reviewed remotely by neuro specialists and stroke patients will be provided with timely access to a neurologist consultation, regardless of where they are physically located."
By sharing brain images such as MRIs and CT scans, the ENITS system allows specialists and emergency room physicians from across the province to properly assess the stage and severity of a patient's stroke, and determine if the patient is a candidate for the clot-busting drug tPA (tissue plasminogen activator) which is effective if administered shortly after a stroke.
"Providing high-quality, safe and effective care to patients is our top priority at LHSC, and we are very pleased that the government is continuing to support efforts to work with all partners in the system to improve state-of-the-art technology for our patients," says Glendining.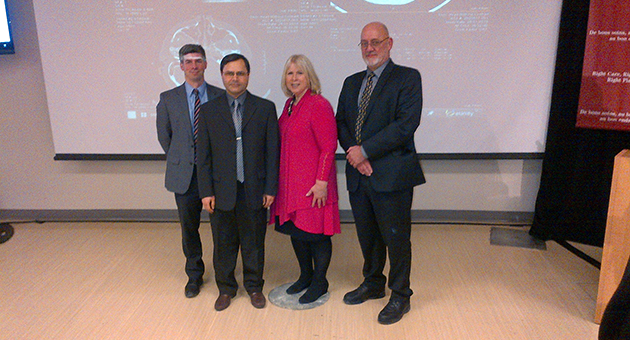 Glen Kearns, Integrated Vice President of Diagnostic Services and Chief Information Officer, LHSC; Dr. Seyed Mirsattari, Neurologist; Deb Matthews, Minister of Health; and Murray Glendining, LHSC's Acting President and CEO.