September 21, 2012
The Honourable Deb Matthews, Minister of Health and Long-Term Care and MPP for London North Centre visited London Health Sciences Centre's University Hospital on Friday, Sept. 21.
After touring the Emergency Department (ED) at UH and learning about the role of the off-load ambulance nurse, Minister Matthews held a media conference outside the ED. She announced continued funding with an increase of 11,600 nursing hours for emergency offload nurses at London Health Sciences Centre.
LHSC is very pleased that the government will continue to support the ambulance offload nurse program. The funding is making a positive difference for our patients and the community. EMS crews are able to return to the community more quickly, and we are able to provide more timely assessment of patients when they arrive by ambulance at our emergency departments, helping to improve patient safety, access and care.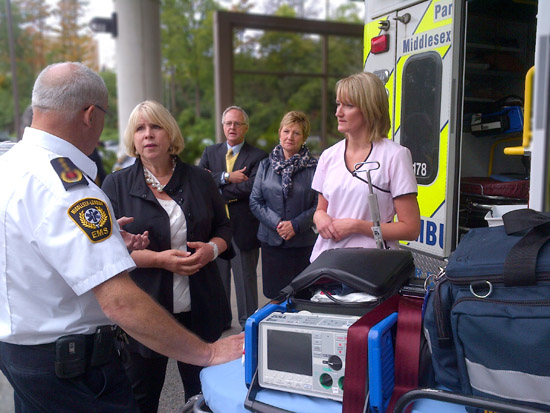 From right, Emily Nicholson, LHSC off-load nurse, is joined by LHSC President and CEO Bonnie Adamson, LHIN Board Chair Jeff Low, and Minister Deb Matthews as they talk to ambulance paramedics about the benefits of the off-load nurse role.