LHSC surgeons first in Canada to use single incision for living donor kidney transplant
August 28, 2013
The robotic assisted single-site nephrectomy was performed recently by LHSC surgeons Dr. Patrick Luke and Dr. Alp Sener on kidney donor Kelley Kunkel of Walkerton, ON. The surgeons performed the procedure using the da Vinci robotic surgical system which allowed them to carefully extract the healthy kidney.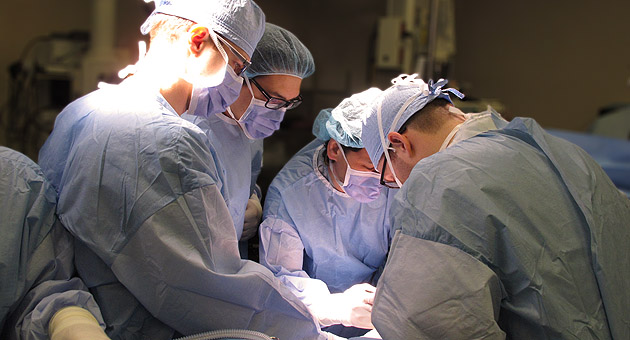 See more photos on LHSC's Facebook page.
Kelley underwent the procedure in order to provide her husband Steve, with a new lease on life. A type 1 diabetic for over 30 years, Steve was in kidney failure and faced a lifetime of dialysis without the transplant.
Deemed a 'perfect match', Kelley did not hesitate to share this gift of life with her husband, however, she was happy when she learned that she would be the first person in the country to have her kidney removed through a small (4-6 cm) incision in her navel. "Dr. Sener said the recovery time would be shorter with this method, and he was right. I was out of the hospital in three days, and had a fully healed incision within four weeks. You can't even tell I had surgery now."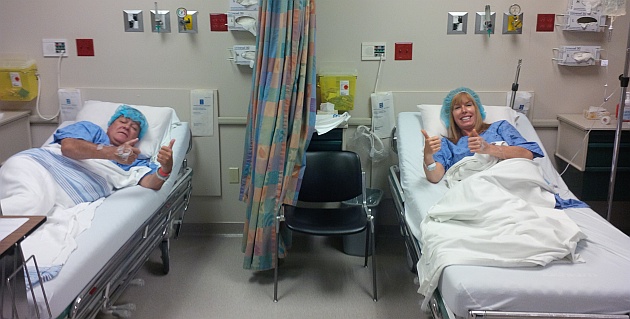 "We are very fortunate at LHSC to have state-of-the-art da Vinci robotic systems which allow us to take minimally invasive surgery to the next level," said Dr. Sener. "By using robotic assisted Lapro-Endoscopic Single Site Surgery (LESS) on living kidney donors, we are able to minimize risk, shorten recovery times, and return the donor back to their normal day-to-day activities sooner."
This is an important development in living donor transplant surgery, as traditional open stomach organ retrieval, and even the minimally invasive laparoscopic surgery involving three to four incisions, require a longer time to heal and involve more risk to the donor. "Living donors are selflessly offering a part of themselves to another human, with full knowledge that their lives will also be impacted by this gift," said Dr. Patrick Luke, co-director of LHSC's multi-organ transplant program. "If we can utilize technology and medical innovation to help reduce that impact, perhaps more individuals will consider living-donor kidney donation in the future."
"LHSC has always been on the leading edge of medical innovation, and this first single incision nephrectomy is further evidence of that," said Bonnie Adamson, President and CEO of London Health Sciences Centre. "When we invested in the da Vinci robotic surgical system, we knew that it would allow our highly skilled physicians the opportunity to continue to improve patient care by minimizing the impact of surgery. I am thrilled to hear of the positive experience Mrs. Kunkel had, and I congratulate Dr. Luke and Dr. Sener on this tremendous achievement – the latest in a long legacy of transplantation innovation at LHSC."
See more photos from the procedure on LHSC's Facebook page.