Clinical Neurological Sciences at LHSC first in the region to roll out a complete oral health assessment for patients

August 3 , 2012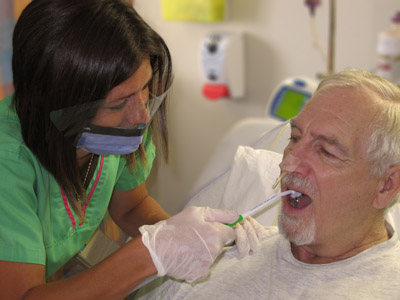 RN, Denise Martins assists CNS patient Dennis Hockey with his oral health care, an RNAO Oral Health Best Practice requirement.
LHSC is the first hospital in the region to implement a tool to assess the acute care oral health of inpatients, and a guideline for staff implementing oral care. The Clinical Neurological Sciences (CNS) Unit at University Hospital (UH) developed the tool out of their Continuous Quality Improvement (CQI) Council, a team of inter-professional health care providers.
The CQI councils were established by Professional Scholarly Practice to empower front-line staff through a shared governance model and the implementation and actualization of Continuous Quality Improvement (CQI) across the entire organization. "The beauty of this innovative model of CQI councils is that we enable the people at the point of care, who have the specific knowledge of the issues and the solutions, to implement the changes necessary to increase the quality and safety of care delivery," says Dr. Vanessa Burkoski, Vice-President, Professional Practice and Chief Nursing Executive.
After researching best practices and surveying the current oral care practices being administered on the unit, in June 2012, CNS launched a new assessment tool to be administered to every patient within 24-hours, and made sure that the proper oral health products were available at the bedside. Proper oral care, or lack of, is linked to pneumonia rates, prolonged stays in hospital and can negatively affect quality of life for the patient.
"Often times oral care assessment was being overlooked considering the acuity of the patient. Other issues were getting attention, while oral care was suffering, and often providing good oral care would help the patient's quality of life immensely," says Penney Letsos, Speech-Language Pathologist and co-chair of the CNS CQI team.
"Our patient population is vulnerable, but despite the fear of aspiration, or food, or tube feeds, the biggest risk for aspiration pneumonia is actually from the bacteria growing in a patient's mouth. By cleaning their mouth properly, we reduce the risk substantially," says Lynda Ryall-Henke, Clinical Educator CNS. Nosocomial pneumonia accounts for 10-15% of all hospital acquired infections.
Within 24 hours of being admitted, all CNS patients have a complete oral and dental assessment, including screening for signs and symptoms of dental disease, level of oral care needed, and appliance (i.e. denture) assessment. After assessment, the oral care needs are addressed either by the patient if capable, or with the assistance of the health care provider. This includes the cleaning of the teeth, tongue, palate, cheeks and lips, through brushing and/or flossing, mouthwash and suctioning.
"This kind of care and attention is fantastic," says Dennis Hockey, 65-year-old CNS patient, who was admitted to LHSC after having difficulty swallowing and changes to his speech. Denise Martins, RN has been actively helping Hockey with good oral care daily, which is helping to reduce his risk for aspiration and improving his ability to communicate.
"We hope to have better outcomes down the road for our patients," says Letsos. This is only one of the over 96 initiatives that have grown out of CQI councils. The CQI committee will continue to document and review their assessment tool throughout the summer.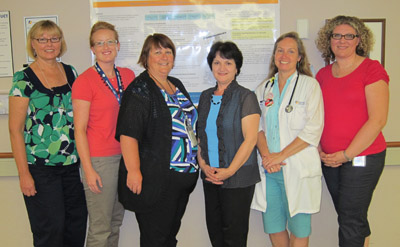 The CQI Inter-Professional Team who developed the Oral Care Health Assessment Tool for CNS.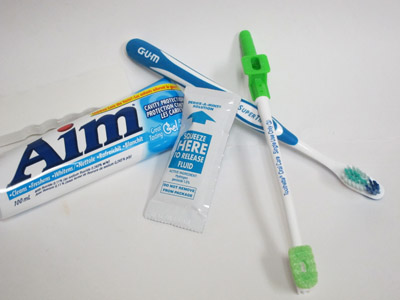 A sample of oral health care products now available at the patient's bedside in CNS.