June 28, 2012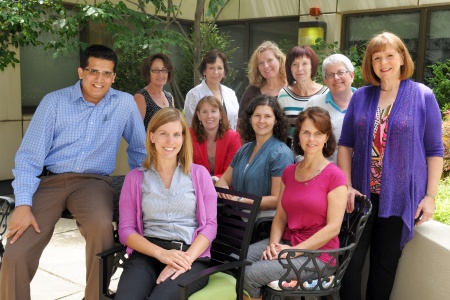 From rear left: Ajay Mysore Narasimba (SLP), Juanita Will (nurse), Betsy Toth (administrative assistant), Sue Ward (dietitian), Christine Piechowicz (Research Assistant), Leann Merla (OT), Maxine Pulbrook-Chiu (clinic volunteer).
Front row: Hillary Young (SLP), Mikelle Meaden (Social Work), Christen Shoesmith (physician), Marion Kelly (administrative assistant).
Missing: Karen Findlater (physiotherapist) and Michael Strong (physician)
They have been helping care for patients with motor neuron diseases for more than 30 years; though many don't even know they exist.
"They" are the motor neuron disease (MND) team, providing consultation, diagnosis, support and care advice to patients with a motor neuron disease, including amyotrophic lateral sclerosis (commonly known as ALS), primary lateral sclerosis (or PLS), spinal muscular atrophy (SMA) as well as other motor neuropathies.
The clinic sees about 200 patients annually, each of whom will typically spend the entire day in clinic every three- to six-months. During their visit they have access to the entire multi-disciplinary MND team, including physicians, a nurse, speech pathologists, social worker, dietitian, physiotherapist, occupational therapist and respiratory therapist. They may also run into the research coordinator if they are taking part in a research trial, the administrative assistant who helps coordinate all of their appointments, and a dedicated volunteer who provides a friendly and familiar face while helping to navigate their various appointments.
"It's like one-stop shopping for our patients," says Dr. Christen Shoesmith, MND clinic director who adds that patients are seen across the continuum of care, from diagnosis through to the end stages of their disease.
The MND clinic was started in the 1970s by Dr. Arthur Hudson and was the first adult multi-disciplinary MND health-care team in Canada. Dr. Michael Strong took over as the clinic's medical director from 1990 until 2010, when he handed over the reins to Dr. Shoesmith after taking on his current role of Dean, Schulich School of Medicine and Dentistry.
Today the MND team is one of the largest adult multi-disciplinary health care teams in the country and the clinic has become an international referral centre, seeing Canadian patients from Alberta to Newfoundland and others from as far as Europe and Asia.
Many of these patients also participate in research trials that can offer hope of a better quality of life. Currently the MND team is involved in two clinical trials: one looking at the use of an existing drug to slow the progression of ALS; and the other looking at a drug with neuro-protective qualities to help prolong life.  Dr. Shoesmith is hopeful that two other clinical trials accessing other experimental therapies will begin recruitment in the fall.
For patients with ALS, their breathing muscles will weaken as the disease progresses and they need occasional assistance with respiratory ventilation, provided through a BiPAP machine.
Dr. David Leasa, a respirologist at LHSC who also consults on MND patient cases, recently obtained permanent funding for a chronic ventilation clinic which will allow MND clinic patients requiring BiPAP the ability to have it initiated in an outpatient setting, where before they would need to be admitted to hospital for one or two days.
"This is a clear improvement in care for our patients," says Dr. Shoesmith who credits Dr. Leasa's tenacity in securing the funding for this new outpatient service.
Dr. Shoesmith is a member of a select group of individuals from MND clinics from across North America which is in the process of developing an evidence-based performance measurement set which will be used to assess the quality of care that ALS patients receive.
"I am confident that our clinic will be one that helps to set the bar," says Dr. Shoesmith, citing their research trials, innovative services like the BiPAP clinic, and a stellar multi-disciplinary team that consistently goes above and beyond.
"This is an outstanding group of people who care deeply about our patients. They can always be asked to go outside of their job description to help improve the quality of life of our patients," says Dr. Shoesmith.
"Motor neuron diseases are very challenging and often fatal. When we care for these individuals, I am always surprised by the inner strength of the patients and their families."
Dr. Shoesmith says she enjoys the relationships that she is able to build with her patients and their families; and with the medical advances and research over the last few years, she says there is definitely hope of one day having more effective treatment.
"The science behind motor neuron diseases is rapidly evolving and there is great hope that treatment breakthroughs are on the horizon."