November 1, 2012
Erik Elmauer, pharmacy porter, LHSC, is captaining a London Health Sciences Centre team as part of Movember Canada.
"Movember is about raising awareness of men's health issues and this year in addition to raising awareness of prostate cancer, Movember is also about raising awareness of male mental health issues," says Elmauer.  "Men can often have difficulty discussing men's health issues and especially mental health issues, hopefully Movember encourages them to start a dialogue or get checked-up."
Having individually raised $1,100 during last year's Movember, Elmauer is co-chairing London's Movmeber initiatives this year.
"By growing moustaches throughout Movember men effectively become walking, talking billboards by prompting private and public conversation around the often ignored issue of men's health," Elmauer continues.
It's not too late to join LHSC's Movember team.  Sign up at http://ca.movember.com/team/420581 Mo Sisters are also encouraged to support their Mo Bros by visiting the website.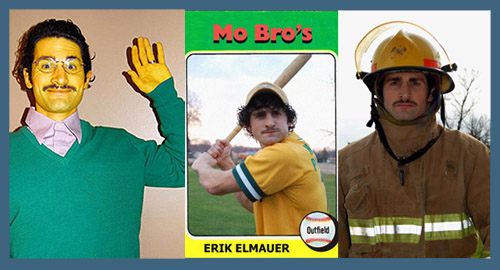 Erik Elmauer, pharmacy porter, poses as different characters during last year's Movember.